GoPros are the most popular action cameras. These cameras are easy to wear, attach and record adventurous moments. It offers excellent image quality and shutter speed. But are GoPros good for filmmaking?
Firstly, the quality of the video from a bigger camera would be far better than GoPro. Secondly, cameras allow you to change lenses and dedicate a separate microphone. However, GoPro doesn't offer you any such features. Digital cameras have digital viewfinders. GoPros do have it, but it's pretty small in size.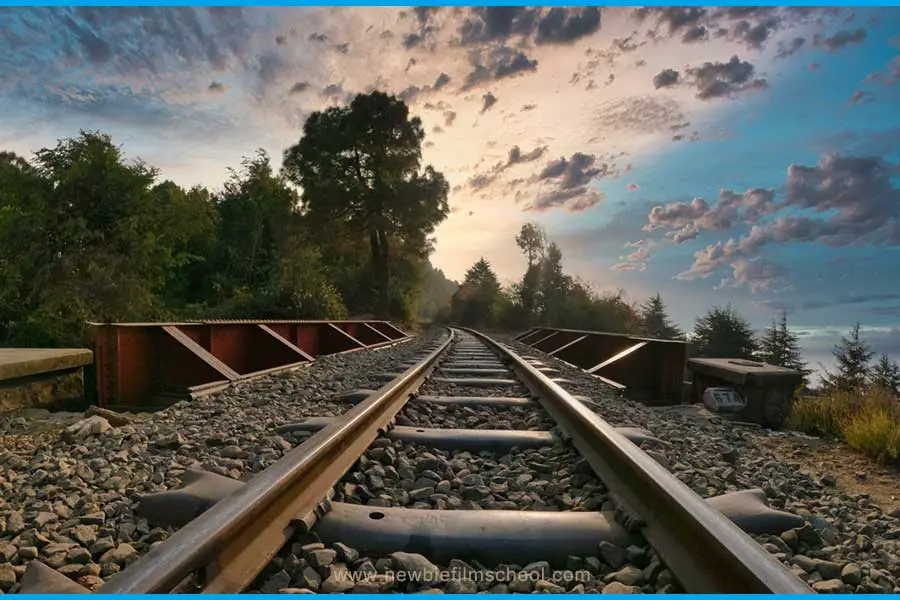 But that doesn't mean you can't use GoPro for a film.  GoPro is a great camera for a specific purpose, and a movie has a narrative.  Yes, you can shoot a film using GoPro if it supports or enhances the narrative.
It also depends on what type of movie you want to shoot. If it's a short film or short action scene where a certain kind of visuals can best express that narrative, then you can go ahead with a GoPro. But for a traditional long movie, it is not a good idea to shoot the movie entirely on a GoPro as it may not be a pleasant storytelling experience. However, there can be exceptions.
So, let's dig deep into it. But first, let's understand the GoPro camera.
The Go Pro Camera Technology:
Back in 1914, Leica launched the first 35 mm camera that would dominate the camera industry till the 20th century. However, things changed, and more portable cameras were built. In 1972, SX-70, a revolutionary camera offering an SLR camera with Polaroid, was available to the public.
Things changed for good when J-SH04 came into the picture in the year 2000. The first cell phone with a camera! But these phones were not too handy like their current generations. And, an amateur-level camera wasn't pocket-friendly either. In 2002, GoPro was emerging, and guess what, it all started with a surfboard! 
Nick Woodman, while surfing in Australia, was sad that he could not capture his moments on camera. At that time, there were no cameras that were lightweight and capable of recording actions. This led a surf enthusiast to make GoPro's. The GoPro's distinct edge over other cameras are:
Wide Angle:
The lens in GoPro focuses wide angle. Thus, for a normal movie, you will need to go close to the object as there's no zoom in/out feature. Filmmakers use GoPros for specific shots that aren't possible from bigger ones. 
High-Risk Environment Shoots:
They are also deployed in places where we shouldn't send expensive cameras. (For example, underwater, sandy environment, higher altitude, vibration/shock scenes, or moist atmosphere.) GoPro is a great camera, but using it for filmmaking might be compromising. There are ways you could shoot a film using GoPro. 
Mounting Ability:
If you have a steady and stable stand/stick/tripod, mount the GoPro, this becomes your Steadicam. Attach a smartphone to it, use it as a viewfinder. For recording, you may get an external mic or handle it in dubbing. Overall, yes, you can shoot a film using GoPro. But, the quality of the content may get compromised. It can be a great tool in your arsenal but not the only one you should rely on.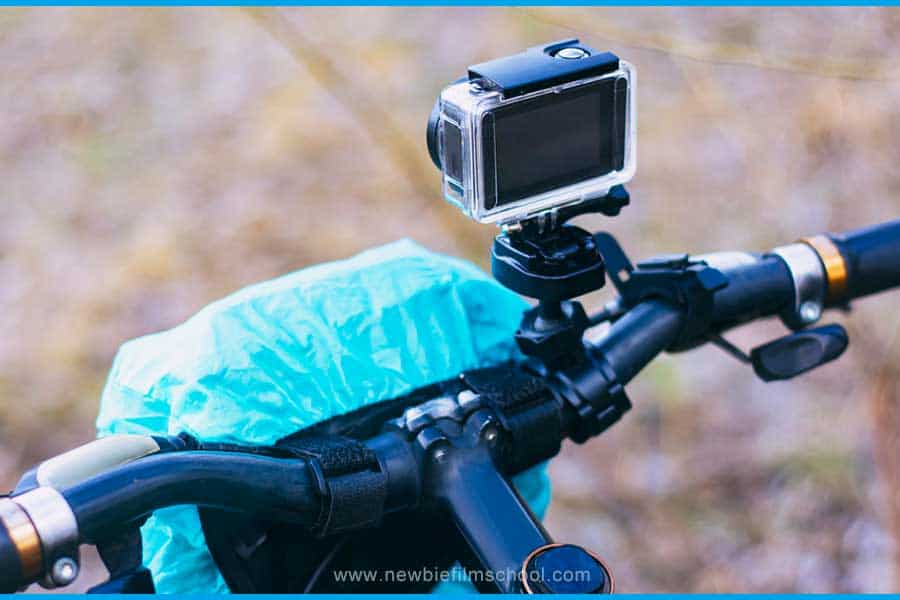 They are key aspects for filming, and hence you can always opt for the camera if you need any two of the above for a movie. So, you can't outright reject a GoPro for filmmaking before considering if it is any better than the other cameras.
Is GoPro Better Than Other Cameras?
GoPros are undoubtedly the best action cameras in the market. But comparing it to other digital cameras, GoPros aren't the best. Actually, it's a question comparing hatchbacks to SUVs. Everyone knows the basic difference, but the purchase depends on an individual's need. Similarly, GoPros have got their pros and cons. GoPros are small and packed with possible features. Meanwhile, DSLRs are bigger and offer more features. 
Size: 
In matters of size, GoPro wins! They are handy and can be carried anywhere. DSLRs are bigger and heavier than GoPros. They need to be carried carefully. DSLR allows you to change lenses and accessories. But, you cannot change lenses in GoPro. GoPros are handier but being smaller and compact; thus, few features are prone to get sacrificed.
Stabilization: 
Stabilization is a major factor in cameras. GoPro comes with HyperSmooth stabilization technology, whereas DSLRs come with "Image Stabilization and Vibration Reduction." GoPros are better in stabilization as they are built for that purpose.
Resolution: 
When it comes to resolution, hands down, GoPros are great. They can shoot up to 5.3K video quality at 60fps. Meanwhile, an entry-level DSLR would offer you 4K at 30fps or 60fps. DSLRs are capable of higher resolution, too, but there's a price for it.
Cinematic & Low Light Shots: 
GoPros are great to capture cinematic shots but DSLR outcasts them with better and sharp lenses. DSLRs are also better in low light conditions, but GoPros may disappoint you.
Underwater: 
GoPros are waterproof and can withstand depths up to 40 meters. Meanwhile, DSLRs aren't meant to do the same. They are not at all waterproof, and if submerged in water, fish it out immediately and dry it thoroughly. Even high-end DSLRs aren't waterproof completely. They may withstand drizzles, but heavy rain can damage them. 
Overall, if you have a handy camera that can capture wide angles, cinematic with high resolution, and can withstand water for a longer span of time, go for GoPro. And if you want a camera in which you can change lenses, take advantage of more features, and professional photography is your goal, and then DSLR is the perfect choice for you.
But what remains to be seen is if it can record for a long format. So, let's check that out.
How Long Can A GoPro Record?
Factors such as resolution settings, SD card, and battery capacity of the GoPro determine how long a GoPro will record. A 32GB GoPro would last lesser than a 64 GB GoPro with the same resolution setting. Meanwhile, a GoPro recording at 4K would last less than a GoPro recording the same at 1080p. Environmental conditions also play a role in hindering the record time. 
Usually, a GoPro lasts for 2 hours at 1080p, 30FPS resolution setting. Therefore, inserting a larger capacity SD card and connecting the camera to a power source may increase the record time until the SD card gets full.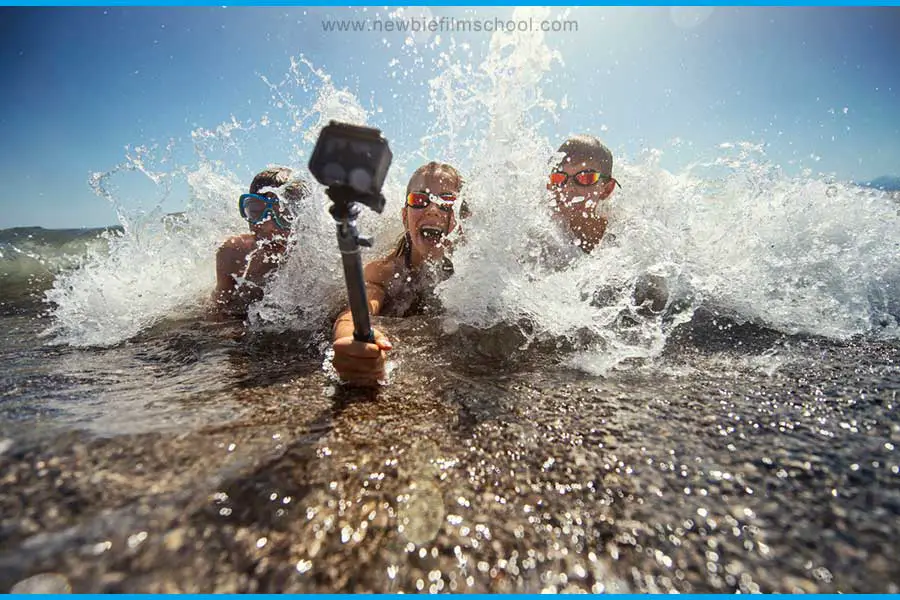 Before comparing GoPros, let's talk about their technical specs. GoPro MAX comes with a 1600 mAh battery; the Hero 8 comes with a 1220 mAh capacity. The HERO 9 promises to offer a 40% bigger battery life than its younger sibling 8. Thus, 9 come with a 1770 mAh battery. And, the Hero 10 probably offers the same mAh (1720 mAh). Technically, the Hero 9 offers the biggest battery.
Actually, GoPros have an overheating issue which makes it a bit difficult to conclude the exact recording time. Hero 8 overheats at 31 minutes, and Hero 9 overheats at 34 minutes (4K resolution). So we might not know the exact comparison as the GoPros overheat before the battery depletes completely. 
Hero 8 was at 41 percent before shutting down due to overheating. And Hero 9 was at 51 percent. So it can be concluded that the Hero 9 can record for approximately 70 to 80 minutes at 4K. 
1080P/30FPS:
Recording for 34 minutes, Hero 9 had 77 percent left. And Hero 8 had 67 percent left. Hero 8 gets completely drained at 1.5 hours. But Hero 9 still has 36 percent left. 
Overall, a 1220 mAh device can record for 1.5 hours at 1080p; then, the rest GoPros will perform better. At 4K resolution, Hero 8 can record for approximately 53 minutes. 
It's safe to conclude that Hero 9 and 10 can get you around 1 hour 15 minutes. On average, GoPros can record for 2 hours before they exhaust completely.
Data Courtesy: Air Photography
Is GoPro Good For Short Films?
GoPro cameras are powerful enough to shoot short films. Movies like Hardcore Henry(link) were partially shot using a GoPro camera. The core of the short film is an engaging narrative. The technology used is merely a way to enhance visual quality. 
You might have seen short commercials with mind-blowing cinematography. These commercials are shot using GoPros. Although GoPro has limited videography features, it is equipped with a sharp and clear lens. 
An additional advantage of GoPro is waterproof. GoPros are waterproof, which means; you can shoot while surfing or even in a moist environment without worrying about its durability. 
GoPros also come with higher stabilization and a streamlined design which makes them suitable for every type of filmmaking. Few of the most rugged, adventurous scenes are shot using GoPros as they can go almost everywhere with better stability without sustaining any damage.
Short films are around 4 to 15 minutes, and the resolution is around 1080p. GoPro with a larger SD Card can shoot a quality rich short film. However, you might need a power source to charge it again and again. As the average record time, it can give you is between 1.5 to 2 hours. 
 Can You Make A Full Movie With GoPro?
Technically Yes! You can make a full movie with GoPro. However, you need to get the audio separately using an external mic. The only drawback of using it as the only camera is wide-angle and no depth of field.
The ultra-wide-angle might annoy you sometimes. Hardcore Henry, an action POV, was partially shot using GoPros. According to a few cinematographers, GoPros are amazing but using it as the only camera for an entire movie might not be the best plan. There are many other resources available specifically for filmmaking.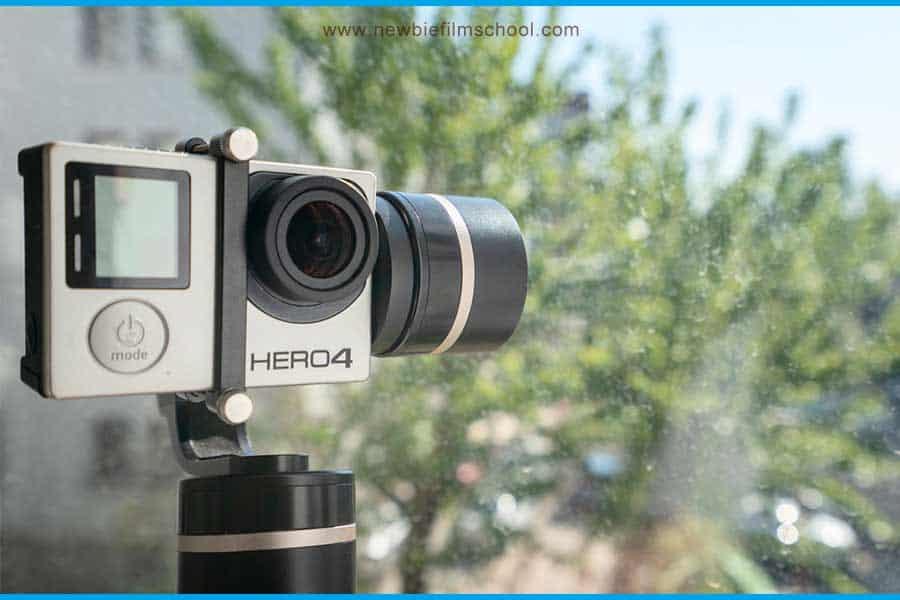 What GoPro Is Best For Filming?
Currently, there are four primary GoPro cameras available; Max, Hero 8, 9, and 10 Black. Determining the best GoPros depends on the purpose. If you want to record 360-degree footage, Max is the best. If your need is better battery life and stabilization, Hero 9 is the best. However, the current flagship is Hero 10 Black. But, Hero 8 is suitable for the majority of people. We will rank the latest GoPros!
1. GoPro Hero 10 Black: 
This camera can record videos of up to 5.3K quality at 60 fps. It comes with a new GP2 processor and HyperSmooth 4.0.
Currently, this camera is the fastest when it comes to processor and transfer rate. It has slightly improved TimeWarp and horizon leveling than its counterpart.
 The camera won't disappoint you in battery life either. It comes with a 1720 mAh battery, quite similar to Hero 9.
2. GoPro Hero 9: 
Hero 9 is slightly behind Hero 10. The specs are marginal. This camera can record up to 5K quality at 30 fps. It comes with HyperSmooth 3.0 and a GP1 processor.
The Hero 9 is not smoother than the current flagship, but it's still impressive. 
3. GoPro Hero 8:
Hero 8 is capable of recording 4K videos at 60 fps. The camera comes with HyperSmooth 2.0 and a GP1 processor. Here you get 12 MP and super photo with HDR.
Hero 8 comes with fewer MP's, but it's the best value for money product. The device comes with a GP1 processor; the same is in Hero 9. Therefore, the processing is almost the same in both.
The maximum quality both can record is different, but not everyone shoots at 5K. Hence, for an individual who wants to shoot his tour or stunts, Hero 8 is the best deal as it costs less and offers adequate features.
4. GoPros MAX:
MAX is best for 360-degree shooting. MAX beats Hero 8 in terms of image quality. Apart from these two features, MAX doesn't have any unique weapon under its sleeve. 
Overall, if you want to shoot a film, Hero 9 is the best as it gives you better battery life, nearly the same megapixels, stabilization, and GP1 processor at a lesser price.
However, if you have got a few bucks to send, flagships are always best. Hero 8 is great for beginners as it's the cheapest of the top 3 and offers almost everything required for filmmaking. 
Do Professionals Use GoPros?
Professionals do use GoPro, and usually, you can find a GoPro in their camera bag. As they are handy, small, and can do some mesmerizing stuff. You might be thinking, what is so special about GoPro? It's a tiny camera offering 12 to 23 Megapixels with stabilization that mobile offer too. What makes it different? Well, the answer relies on its top 5 uses.
These are the reasons why professionals use GoPros:
To capture ultra-wide angle
Record time-lapse footage
Capturing adventure without holding a heavy camera
Can be mounted on the wrist, skateboard, surfboard, car dashboard, or anywhere.
5) Deploy GoPro in a dangerous situation and capture videos: There are times when you want to record an event, but it's too dangerous to record it directly. Suppose you want to record "running of the bull." It's dangerous to shoot from the ground. You can attach GoPro to the street or a drone to record the event. Stand at a safe distance and control the GoPro drone.
Who Is GoPro's Biggest Competitor?
The biggest Competitors of GoPro's are as follows:
Sony
AKASO
Canon
Leica Camera
Legrand AV
PowerVision Technology
Olympus Corporation
Samsung Electronics
Garmin
TomTom Bandit
SJCam
Polaroid Cube & Xiaomi