One of the quickest ways to guarantee yourself an exceptional filming experience is having the right tools for the job. We all agree that having excellent skills is good. But, having the proper equipment is even better.
So, is a camcorder good for filmmaking? Probably most of the professionals reading this piece will cringe at the thought of filming with a camcorder. Why? Because you shoot home videos with a camcorder, not movies. Yet, it is among the top tools that ensure an excellent experience.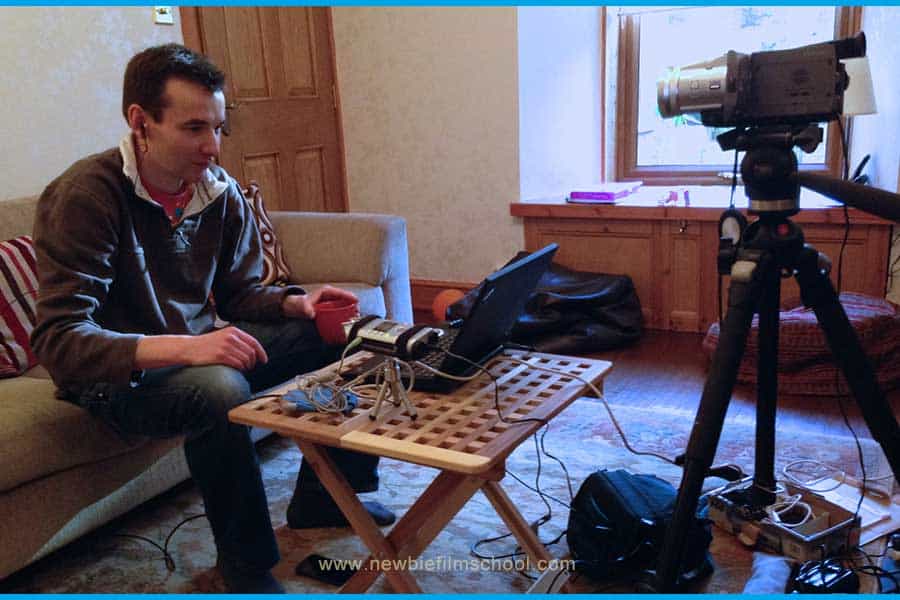 There is limited information on camcorders. Usually, we know that it is a device that blends in a camera, video recorder, and pulse generator, allowing a videographer to record sound and video and quickly transfer them to storage devices such as memory cards or DVDs.
In simple words, it is a portable product combining a video recorder and camera. As a result, it is pretty popular among newbie filmmakers. This article will discuss some of the best budget camcorders or filmmaking giving details about why you should purchase them. Read on!
7 Best Budget Camcorders For Filmmaking
As mentioned above, camcorders play a major role in filmmaking. However, as a newbie or an expert in filmmaking, you may find these devices so expensive to purchase. And this is where this article comes to the rescue. This section will explain the top seven budget camcorders that you can buy to boost your career in filmmaking. Check them out!
1. Panasonic HC-V380K
This product is the top camcorder on our list since it is a budget camcorder with a powerful operation mechanism. It features both NFC and Wi-Fi connectivity, so you can easily share videos. The device includes the five-axis stabilization that keeps the videos steady.
Besides, you can record your videos when you are far away with the help of the 50x optimization zoom feature. Note that with this product, you guarantee yourself an easy and powerful filmmaking experience.
Features
A unique touchscreen display system
Multiple scene modes
A recessed lens that reduces flare
NFC and Wi-Fi connectivity
2. Canon Vixia HF R800
Canon camcorders are quite popular among videographers thanks to their outstanding features and high-quality video content. It includes a real-time HDMI output allowing you to send your video straight to your computer.
The camcorder picks up stereo audio with the aid of dual microphones, which you can find beneath the lens. With the lightweight construction, the filmmakers can comfortably carry these devices whenever they go.
Features
These products are portable with the SDXC cards
High-capacity battery
Lightweight construction for easy portability
It is easy to transfer content from the device to your computer
3. Sony HDR-AS300
Like all the Sony Products, this camcorder is an excellent choice for filmmakers working with a low budget. It features an external microphone jack and an integrated GPS unit. However, it still lacks a screen that operates during playback.
The device has a wide-angle length that blends with the camera stabilization system that provides unique images effects. Note that it has a simple operating system that matches professionals at different levels.
Features
Lightweight for easy portability and use
Integrated GPS Unit
It misses a screen in cases of playback
External microphone jack
Flexible
4. Canon Vixia HF w11
This option is among the best for people who love filming in environments where their equipment is exposed to water. Why? Because this device can withstand exposure to a small amount of water. It includes a 32GB inbuilt memory allowing you to store a lot of information at a time.
A small LED light is apt for illumination in dim environments. The black color finish makes it excellent for all to use since black often matches with everyone. Note that this camcorder blends in a high-quality design and operation mechanism. As a result, it not only looks excellent but operates effectively.
Features
32 GB inbuilt memory to store videos
The camcorder is shock-resistant
High-quality sound
Easy to use
Black color finish delivering an elegant look
5. Panasonic V180K
Panasonic brand is among the top manufacturers you can rely on when buying a camcorder. And when it comes to this budget camcorder, things are not different since the device looks great and operates effectively.
The rare illumination sensor allows this camcorder to take in more light, making it a great option for areas with a low-light setting. This option is a great choice when a filmmaker works in dim lighting, popular in most films.
Features
Five-axis stabilizer to achieves steady images
Long extended zoom range to give you more focus on the items you are shooting
It is excellent for dark environments
6. Olympus Tough TG-Tracker
This option is a bit limiting when it comes to screen size. But, it makes this feature up by delivering high-quality video quality. The camcorder is shockproof when dropped from a height of 7 feet and water-resistant to a depth of  30m.
It is a lightweight device that is available in a small size for easy portability and use. Purchase this camcorder today for an excellent experience when shooting your film.
Features
It has a powerful 4k resolution
The camcorder is currently available in black and green
Inbuilt barometer and GPS
Lightweight for easy portability
Shockproof and water-resistant
7. Sony Handycam CX440
The Handycam feature makes this camcorder an excellent choice, especially for filmmaking, since it requires easy portability. It has a powerful screen that allows you to take normal videos and selfies, depending on your choice.
The camcorder includes the face detection autofocus allowing you to take up good videos. Get the Sony Handycam today and improve your filming experience.
Features
8GB of internal memory; hence you don't necessarily need an SD card to start filming
21 mm Zeiss lens
Optical zoom of up to 30x
Face detection autofocus
Are Camcorders Good For Filming?
Most filmmaking professionals often have a hard time determining the best when it comes to buying the equipment. In cases where individuals go to the market blindly, there are likely to make mistakes when buying these devices. This fact explains why many people opt to research various products before buying.
When it comes to videography, most of you have probably come across the term camcorder. And as the name suggests, its primary role is to record video and recording simultaneously. The main question you will come across in this field is, are camcorders good for filming?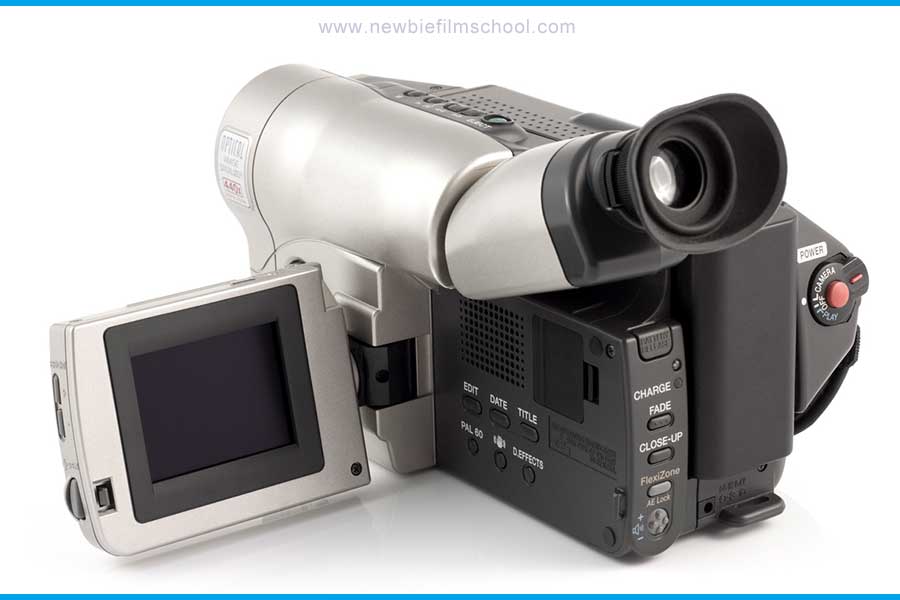 Yes! Camcorders are excellent choices for filmmakers since they include suitable sensors, the primary determiner of the quality of video a device produces. Also, camcorders have all the necessary features that fit multiple filming sets, such as low-light settings, image sensitivity, and many more.
Different camcorders are available from various manufacturers, so make sure you research the options before settling for the right product.
Note that if you are shooting small films or videos for your online platform, a camcorder is a great choice. But, a DSLR will also do the trick.
How To Pick The Best Camcorder For Filming On A Budget?
From the details available, you can tell that many camcorders options are available for filmmakers to buy. When dealing with professionals with many years of experience, things are more accessible since they know what they are looking for in a camcorder.
However, for newbies, picking the proper camcorder is not a walk in the park. Why? Because in most cases, they can barely tell the critical differences between the options available. In that case, this section will cover things you must consider when choosing a camcorder.
The Accompanying Package: 
When you buy most camcorders, they come with an additional package housing some of your needed tools. In this case, you must research every option's package and settle for the product that includes all the necessary tools and maybe some extras. 
Quality Of The Videos: 
As a professional filmmaker, you understand the importance of high-quality videos. So what do you check in a camcorder? You will monitor its zooming ability, resolution of the video, ability to work in low-light conditions, resistance to water, and the effects available. Settle for the option with outstanding features that will output high-quality videos.
Portability Of The Camcorder: 
Other than the quality of the video, you must check the flexibility of the device. Why? Imagine having a high-quality camcorder that delivers impressive videos, but it is crucial to handle due to its weight or management. 
This situation is unfortunate since, with time, most people will abandon the device. Therefore, where picking a camcorder, ensure that the weight is manageable and has no portability issue.
The Brand's Reputation: 
You have probably bought items with unique features and ended up frustrated since the product was not as good as it seemed. This situation proves the reference of reviews and good brand reputation. 
They serve as the best places to refer to when deciding on the best brand to buy. Ensure that the brand you settle for is reliable and has the reputation of delivering what you order.
Budget: 
As much as many people don't like acknowledging this, it is a fact that the price of any product will determine whether you buy it or not. Therefore, as a customer, it is advisable to monitor all the options available and then settle for the option matching your budget. 
.
3 Best Budget Camcorders For Filmmaking Under $300
Camcorders are among the best devices every filmmaker mustn't miss since they include powerful features to improve your video quality. However, as you survey online for camcorders, you realize that some popular options are hard to manage, especially with a tight budget. Lucky for you, this category explains some of the best cheap options but delivers exceptional services. Read on!
1. Canon Vixia HF R600 Full HD Camcorder
This camcorder is available at a low price of $150. It is a great deal for newbies working under a low budget and would like to invest in the right equipment for their filmmaking. The device records up to 1080p by 1920 video and includes a 3.28MP Full HD sensor.
For flexibility reasons, the camcorder has two recording formats, the MP4 and the AVCHD. Besides, it includes the DIGIC image processor that delivers exceptional video quality.
Get this product today and ensure that you capture a high-quality video.
Features
Advanced zoom feature which runs up to 57x
Optical Image Stabilizer
A high resolution of up to 1080p
It includes a powerful image processor
The camcorder records videos to various memory cards in two formats, AVCHD and MP4
It is a perfect choice for professionals at different levels
2. Canon Vixia HF R700 Camcorder
You can get this camcorder for at most $250. It is a recent version of the Canon R600; hence it features more capabilities to help you improve the video quality of your films. What makes this version better is the time-lapse, anti-shake, and low-light features.
It produces videos with a high resolution of up to 1080p, and the connectivity technology is the USB. This option is an excellent choice for filmmakers since it delivers steady videos with the help of an Optical Image Stabilizer and Advanced Zoom feature of up to 57x. Note that the machine is quite simple for easy use with the power to record high-quality video to the easy-to-remove SD memory card.
Features
Powerful zoom ability of up to 57x and an image stabilizer for steady and exceptional videos
A 3.28MP Image Sensor
The digital image processor records videos at a high resolution of 1920 by 1080
It records the videos to an easy to remove SD card
3-inch touch panel that powers the brightness of the video
These camcorders comfortably work under low-light environments
They feature the USB connectivity technology
3. Sony HDR-CX405/B Full HD Camcorder
Thanks to its exceptional features and operation mechanism, Sony is among the top manufacturers that you can get your camcorder from as a customer.  The device shoots in full HD 60p that delivers great quality videos for everything that you shoot.
Its inbuilt battery is powerful; hence the camcorder will serve you for a long time before the next recharge. When you buy this camcorder from Sony, it comes with a 64GB memory card allowing you to store your video comfortably as you work.
Features
Excellent choice for shooting in low-light settings
A memory card of up to 64GB
30X optical zoom
Wide-angle ZEISS lens
3 Best Budget Camcorders For Filmmaking Under $500
In the details above, we have discussed the best options for individuals working with a budget of $300. What if you have a bigger budget of $500? What are the best options to consider buying? For this piece, we will discuss the best budget camcorders available for at most $500. So, let's discuss all the three options below, giving details about why you should consider buying them.
1. Sony FDRX3000/W Underwater Camcorder
The top camcorder in our list is under Sony manufacturers, which doesn't surprise many who have worked with products from this production company. It features a compact design that eases its portability and use. The device comes with the Zeiss Lens and the Exmor R CMOS sensor.
An image stabilization feature that makes it a great choice for action films. Not to mention, the image stabilization ability helps to reduce the camcorder shake effects that often mess with your filmmaking.
Features
Zeiss Lens that is resistant to lens' distortion
A powerful R CMOS sensor
Image stabilization
4k resolution that delivers amazing images
Easy customization of the settings to match your taste and preferences
An inbuilt microphone that is free from wind interference
2. KOT HD 4K Camcorder Video Camera
The main advantage of this camcorder is its ability to record high-quality content. It includes a powerful 13MP CMOS Sensor and a 48MP resolution to deliver exceptional content. This machine comes with two inbuilt rechargeable batteries that offer the necessary power for your operation. Also, the 3-inch touchscreen has a rotation ability of 270 degrees for maximum flexibility.
Note that you can still use your camcorder when charging. The KOT camcorder includes a unique stereo microphone and a wide-angle lens allowing you to record content easily.
Features
48MP resolution
Powerful stereo microphone
3-inch easy to rotate touchscreen
Dual built-in rechargeable batteries
Excellent LED function allowing you to work in an environment with low-lighting
3. Sony HDRCX405 HD Handycam Camcorder
This product is yet another device from Sony. It is the cheapest option on the list. But its capabilities are powerful and closely match some of the most expensive options. The camcorder has a resolution of 1920 by 1080 at 24/60 fps.
You can work with two modes, the MP4 and the AVCHD. And when using the MP4, you will experience fast and easy editing. It includes two zoom features, the 30x optical zoom, and the 60x clear image zoom.
Features
26.88mm wide-angle lens that captures areas with a wide field of view
Highlight movie maker mode
Optical Image Stabilization
Sony Facial recognition technology
Dual recording mode allowing you to record videos and capture images simultaneously
File transfer via USB
3 Best Camcorders For Filming Under $1000
This section explains the top three best camcorders for filming, which cost under $1000. Check them out
1. Panasonic 4k Ultra HD Video Camera Camcorder
Suppose you are working with a budget of $1000, this Panasonic camcorder is the best option to consider according to our list. Why? Because this product includes high-quality construction and a unique operating mechanism. It consists of a 20x zoom lens, 18.91MP sensor, and a hybrid optical image stabilizer. A backside illumination sensor that allows the device to work in lowly-lit environments.
Features
4k resolution
Night vision
Wi-Fi connectivity technology
Wireless Twin camera
2. Sony FDR-AX43 UHD 4K Camcorder
As with all the options under Sony, this device is an excellent choice. It has a powerful memory card and excellent Wi-Fi and NFC connectivity technology. A 20x optical zoom and 30x clear image zoom that delivers powerful imaging. The video capture resolution is 1080p by 720p.
Features
The maximum focal length of 536
High video capture resolution
Digital image stabilization
Sturdy construction
3. GoPro Hero7 Waterproof camcorder
It is a good camcorder option under $1000 from the GoPro manufacturer. A 4K video capture resolution to deliver clear videos. Other special features of this device include the LCD screen, memory card compatibility, and image stabilization. Its waterproof ability runs to a maximum depth of 10m.
Features
Voice-control feature
Waterproof to a depth of 10m
4k video resolution
Lightweight for easy portability
Top 5 Camcorders Under $2000
This option is a category for individuals whose budgets run up to $2000. Here are the top option
1. Sony FDRAX700/B FDR 4K Camcorder
This device is the top item on our list, thanks to its powerful features and strong construction. Some of the best features of this product are the Infrared, Night vision, and anti-shake feature. The 4k video capture resolution allows you to output amazing videos.
Features
NFC Connectivity technology
4k resolution
Anti-shake camcorder
12x optical zoom lens
2. Sony FDRAX53/B 4K HD Camcorder
This Sony camcorder features a powerful 4k video capture resolution and optical image stabilization to deliver clear videos. The compact design with handheld features eases its portability and makes it convenient to take in different shooting sites.
A 128GB memory card to hold all the videos you shoot. Besides, it includes a dual recording feature that allows double shooting.
Features
1.6x image sensor
Sony soft carrying case
20x zoom feature
Intelligent autofocus
3. Canon XA11 Professional Camcorder
As the name suggests, this camcorder is a professional machine that allows experts to deliver excellent videos. It features special features, night vision, Anti-shake, and time-lapse, which eases your filming experience.
Besides, the advanced image sensor comes in handy when working in a dim light environment.
Features
Xlr connectivity technology
20x optical zoom lens
High-resolution recording capabilities
3-inch touchscreen
4. Canon XA15 Professional Camcorder
Canon professional camcorder has a lightweight feature for easy use and portability. The image stabilization feature makes filmmaking free from camera shake issues. Besides, the machine includes 1920 by 1080 video resolution. Again, the device comes with a 3-inch touchscreen with tilt ability for convenient filming.
Features
3.09 optical sensor resolution
High-resolution video recording capabilities
Lightweight
Low-light performance
5. Panasonic AG-AC30 Full-HD Camcorder
Are you looking for a camcorder under $2000? If yes, this machine from Panasonic is an excellent option. It is a handheld camera with a video capture resolution of 1080p. The night vision and low-light features allow you to film in low-light settings comfortably.
Features
Image stabilization
Inbuilt LED Lighting
20x optical zoom lens
Anti-shake feature
What Is The Best Camcorder For Filmmaking?
The best camcorder currently available in the market is the Panasonic HC-X2000. Experts refer to it as the pro model, which blends professional quality and customer usability. It has a 4k image quality resolution and 24x optical zoom. It includes a detachable handle that consists of an LED lighting. 
Besides, there is the 5-axis hybrid visual image stabilization that makes it resistant to camera-shake. The microphone attachment choice is there to deliver excellent audio content. Note that the camcorder isn't cheap but worthy of purchasing.
Conclusion
Camcorders are machines that no professional filmmaker must miss. Why? Because there is the primary determiner of the type of films you will deliver. Due to their popularity in filmmaking, there are many options currently available. As a result, this article gives you facts about some of the best camcorders to buy.