Smartphone filmmaking has taken the world by storm. With the advent of 4K resolution videos nowadays, this slim device is threatening the digital camera business. A few weeks back my nephew, who is a teenager took to smartphone filmmaking in a big way.  He showed me few of his videos, and I was stunned at its cinematic quality.  He later revealed it was the magic of the video camera apps he was using.
I am amazed at the kind of filmmaking camera apps that are flooding the application stores. Breaking my notion that apps are for kids, these camera applications provide some terrific features. I accept that things are changing quite rapidly.
My impression was that these smartphones come with built-in features and are more or less okay. But, if you consider making a film, they fall short by a long distance.  Especially, when you shoot videos, the manual features are almost absent.I welcome the move that these cinematic apps are revolutionizing smartphone filmmaking.
Why you need a third party video camera apps for your smartphones?
All smartphone has a built-in camera application which houses some necessary camera controls. Usually, the functionalities are inbuilt during the manufacturing phase. We can't call these manufacturer true software experts. They are hardware companies with limited software capabilities.
So, smartphones had its shortcomings when it comes to shooting quality videos. Even though the resolution in today's camera phones has reached 4K, still the there were some issues when it comes to filmmaking.  You need full control over your camera parameters. You can't afford your focus or exposure fluctuating when you are recording as you need better and high-quality videos.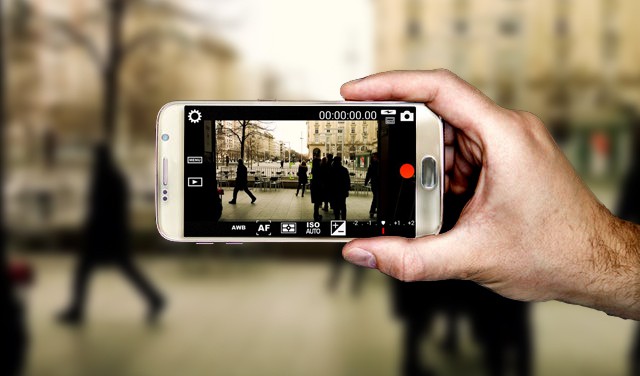 Filmmaking is not about just shooting video; the visuals need individual styles and techniques of telling stories. The mobile phones incidentally lack such things to tell a better story.
If you ask me what it lacks, well here are some few issues that I figured out:
Focus
The controls on the focus and exposure are automatic. It is the most significant drawback. There is a dedicated focus puller in films to maintain a consistency and always keep the focus on the subject. The smartphones auto modes keep fluctuating and shifting the centers which are a big nuisance in shooting videos.
Exposure:
To make matter worse, when it comes to exposure settings, similar issues happen. The camera phones can't fix on the exposure values with little change in light conditions. The exposure settings will automatically set itself for better exposure and result in fluctuation or flickering in the video footage.
The problem heightens when the camera moves. Things become even tougher if you switch or move between shades and heavy lit areas. The manual function is such cameras to lock the exposures come in handy to overcome such issues.
Audio:
These android phone cameras typically don't have proper audio features. Audio is the most suffered and neglected territory when it comes to developing good camera smartphones for videos. We need good sound quality for videos otherwise the videos will look inadequate. Yes, many try to overcome it by not opting for sync sound and adding the sounds and voices in the post-production.
I always consider recording real sounds or sync sound as the best option as it enhances the realism in your movie and also, it saves some money for you when you are stressed about it. There were no useful apps to monitor audio levels and thresholds.
Frame rates and Bit Rates:
Beside the exposures and focus issues, for a high-quality video you need to have good control over the frame sizes, frame rate, and the bit rate speeds.
In HD videos, you require at least 100 Mbps and the frame rates from 24 to 30 options with manual settings. For slow motion shots, you need recording at high speed. For professional cameras which shoot on 4k, you should have manual controls to adjust these settings. The slow motion can cause flicker even though you use flicker free lights. You need potent apps to solve such issues.
Video Camera Apps for Android Smartphones:
Android smartphones allow us to install third-party or aftermarket applications that can completely overwrite the stock camera algorithm. These apps offer some excellent and unique functions that you would not find with any the stock Android camera phone default apps. and you would even fail to capture high clarity videos.
So, before you decide to choose a  smartphone for videography, please ensure there are suitable camera apps present in the market. There are numerous free alternatives and loads of awesome paid apps. I figured out that the big chunk of the cake of the video recording apps is taken away by iOS phones. Then the question arises that are there any for the android? After all, not everyone uses iPhones.
Are there useful video camera apps for Android phones?
Now, talking about Android phones, the availability of suitable video camera apps are lesser if you compare it to iPhones. It may be attributable to the fact that numerous companies produce Android phones and their models come with boatloads of variations. It becomes nearly impossible for the application developers to create dedicated apps for these android cameras.
To the contrary, developing iPhone apps is less cumbersome. For iPhones, you don't need to break your head due to their limited models and features. iPhones usually come with a superior camera, and it makes sense to create dedicated apps. But, when it comes to android, you can't cater to a particular make, and you end up creating more universal apps to subscribe to everyone's standard needs.
But, it is also not true that there is a dearth of useful apps for android phone videography. Some are excellent, but before looking for a camera app, you should always consider the features discussed earlier the limitations of smartphone cameras for filmmaking.
There are free and paid apps, but I suggest paid ones are not going to make a hole in your pocket. It is always a good investment, and one must consider going for the paid apps. Though android camera apps have not many options unlike iPhones, then I found few of them are quite unusual to make your shooting experience productive. They have some professional DSLR-like features.
To select the best we chose those apps which carry the right blend of professional features and are easy to function even for a layperson.
Also, please note that these android apps keep coming with updates, so it is wiser to check all the functions before considering a purchase. Even though the app market has heaps of useless to useful aftermarket or third party video camera apps, I narrowed down to few good ones and am only revealing what I think are the best not is a particular order.
Open Camera :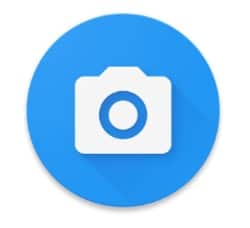 Let's start with the best free application around. Open Camera is an excellent free solution and probably the best free option available for android camera phones. Though Open Camera is free, it has some great functionality which is on par with many paid apps. The interface is simple, and the results are terrific.
Open Camera is compatible with a considerable range of Android devices and works quite well. It has a variety of useful features and manual controls for a smooth shoot. Now, don't get vanquished by the rich features and benefits packed inside this camera app. There can be so many things to play around and tweak to draw original results that it can be overwhelming. Above all, a lot of functionalities replicate with what you produce with a good DSLR or a professional video camera.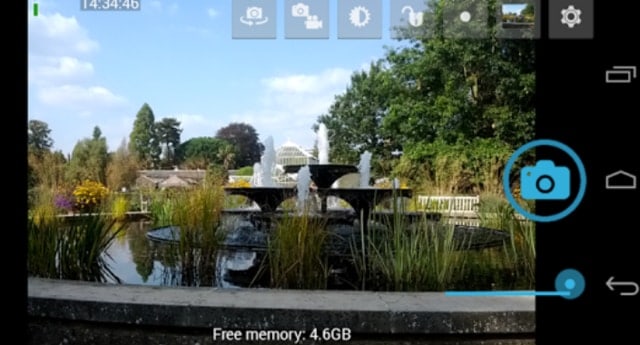 I refined to at least eight critical video settings among many which ensure cinematic imagery. The app handles a 4K Ultra HD video resolution among many other resolution options. Video stabilization fixes and eliminates the shakes and jerks out your video exceptionally well if you decide to walk or move around filming your videos. The results are quite smoother. Open Camera can control video bitrates up to 100mbps. The higher the bitrate and better the quality but it also eats up on the space. With the app, you can find a right balance to all the things. It has multiple industry standard framerate slots. It can record slow motion up to 120 frames per second and can also prefix the recording duration of a clip. You can register audio from the built-in or external microphone which is fantastic.
Open Camera supports external microphones and efficiently focusses to get crisp video and using the manual white balance, exposure and focus locks. All these powerful functions stuffed in a free camera app is quite terrific. It is the best app if you are starting new.
For information on the Open Camera App, Check out its website –> http://opencamera.org.uk/
Cinema FV-5: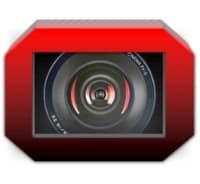 Cinema FV-5 is a dedicated Android phone app, and it has put DSLR like manual control on your fingertips. This app was initially tailored for photography, but over time it transformed itself into a very acceptable video camera app to shoot stunning videos. It is one of the cheapest apps with plenty of control and awesome easy to use interface, and it works on almost all Android smartphones.
Cinema FV 5  comes with DSLR like professional video settings. All the settings have auto as well as manual controls. The manual controls include the focus and exposure controls. White balance and frame rate and bitrate selection and live histograms. It offers excellent ISO, light meter, and zooming controls. The app also provides many crop guides and grids. The FV5 includes DSLR like viewfinder display so you can see exposure time, aperture and stop displays with EV and bracketing settings in real time.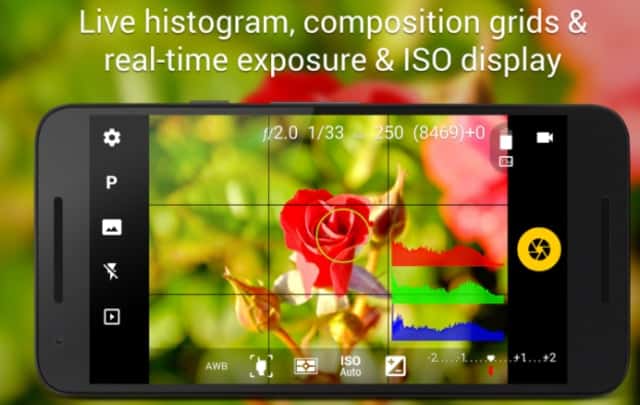 You will appreciate the audio options as the menus are easily accessible on the dashboard. You can monitor the sound levels, which is highly neglected by many inbuilt camera apps. Metadata provides an option to add relevant information to your footage which stores the time of the shoot, location, and other details.
You can record different aspect ratios for 4K resolution videos.The Anti Flicker mode eliminates or reduces flickers in the footage. However, Cinema FV-5  doesn't show the actual shutter reading that the DSLRs do. Another useful feature is that it has control over your codec choices, which is an exciting addition.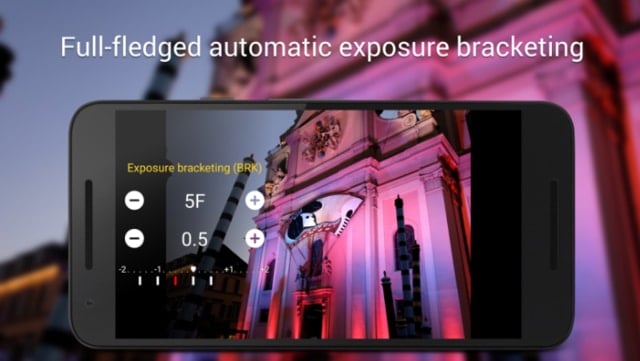 Due to the plethora of different models in the android market,  it is not possible that all phone cameras will be compatible with all the features. But, since this is an android dedicated app, most of the phones can operate with this app, though it doesn't mean that you will have access to all the features. It may arise due to compatibility issues with the Android model and its version. Cinema FV-5 is also an excellent app to try out.
Check out this application here —> http://www.cinemafv5.com/
Filmic Pro: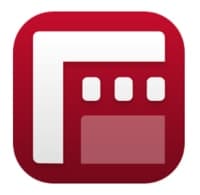 Filmic Pro is one of the oldest yet most popular camera apps for filming. It was considered as a game changer in the iOS phone market initially.Many documentaries and indie films popularized this app. It is compatible with both iPhone and Android phones now. With every new release, it has surpassed itself, leave alone the other camera apps which I will reveal below.
Filmic Pro converts your Android phone camera into a fully featured digital video camera. It has excellent image stabilization, zooming control, uses multiple frame rates which you can select manually. The advanced camera features like focus, shutter speed, exposure and white balance can control manually. It also has a manual gain control for audio, which is excellent.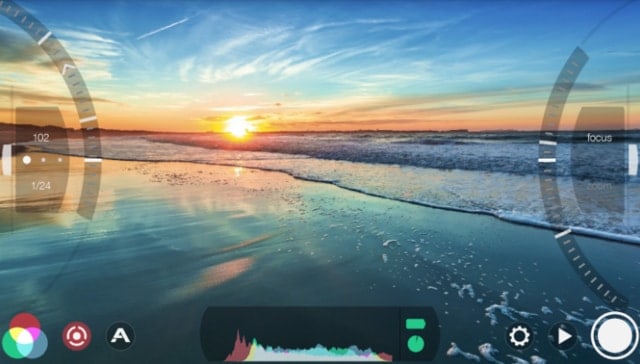 It also comes with different resolution settings and image magnifications. The frame rates can crank up to 240 frames per second to get that super slow-motion effect. There is also an option to do the time-lapse effect. Also, you can record videos the log format so that you can do advanced level color grading like feature films.
Filmic Pro records at 100mbs for a 4K Ultra HD video which ensures a supreme quality of your videos. It is a feature which was unimaginable on a smartphone.You can add metadata info to your videos like mentioning the time and place of the video clip.
Another fascinating feature of Filmic Pro is that you can store some complicated manual settings and recall them when you want to shoot a similar shot. It saves valuable time ensuring no compromise on budget and quality. Though, I must admit handling of menus and submenus is quite cumbersome. The presets can save the day to overcome this problem.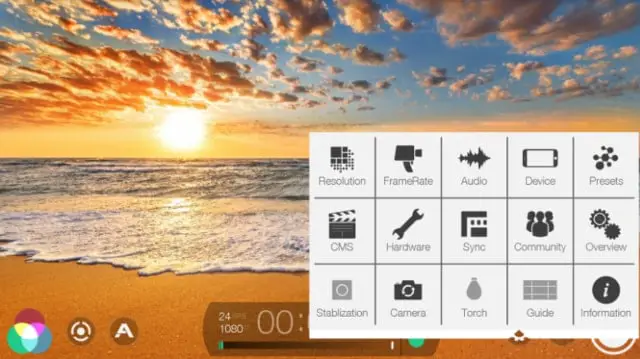 Filmic Pro can also support external hardware. It can adapt and adjust to external Nikon and Canon third-party hardware such as lenses.Also be aware that Filmic Pro may not work with all the models of Android phones as not all features may be available to them. Some may act buggy or may have compatibility issues. It is always advisable to check out with their support for the adaptability of your android phone.
Filmic Pro has a complicated interface as there are many menus buried under each submenu. The workflow is a little challenging for a seamless usage.
The price is under $15. You can check the price of Filmic Pro here→ http://www.filmicpro.com/
Cinema 4K: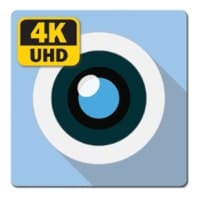 Cinema 4K is another excellent option for android phones. It is a bit costlier than the Cinema FV -5 but much cheaper than the Filmic Pro. It has a fantastic easy to use interface which manifests into fascinating results. What differentiates itself from the other professional apps is its Fat Color Profile.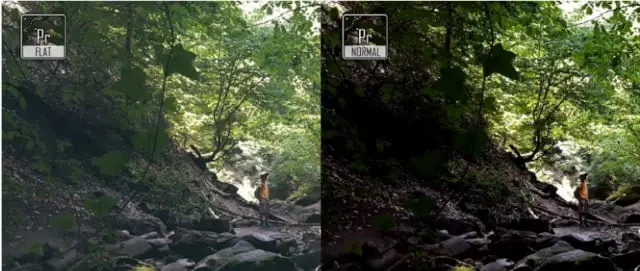 The Flat Color Profile is the Log data which reserves more visual detail for efficient post-processing. It gives a distinct edge on the color grading as it provides greater flexibility in operation.
Cinema 4K too has a considerable amount of options and controls, and it is the best for any newbie. You can access Cinema 4K here –> http://www.frozenvolcano.com/
ProShot: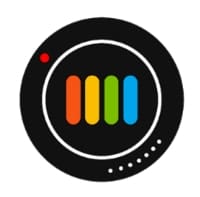 ProShot is more popular among the windows phone user as it is a windows phone app initially. But, it also is compatible with Android and iPhones. ProShot also has some great features like the other professional apps.  It also has a detailed manual control functionality like any other DSLR or professional digital video camera.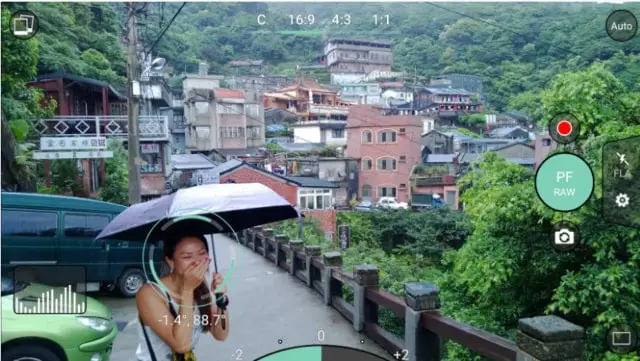 ProShot can control all  Exposure, focus and the shutter speeds manually. White Balance manual option is also present. It has the Timelapse effect option for more extended takes. For 4K videos, you get full image control and can adjust the bitrates for high definition videos. The anamorphic, 16: 9, 4:3 and 1:1 video aspect ratios offer you choices to shoot your videos in various formats.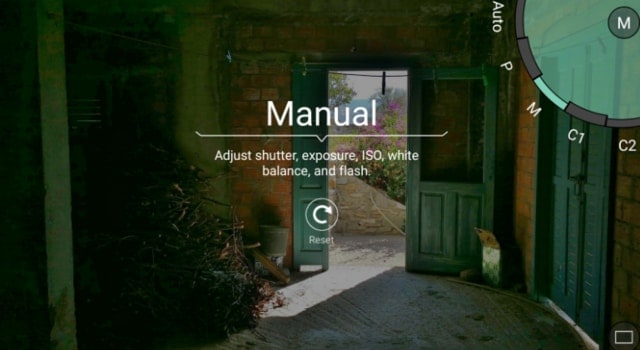 ProShot has the manual focus assist and the zooming feature of other apps. It has a unique histogram settings for exposure controls. This feature is not available anywhere unless some apps develop it later. ProShot also an audio level adjuster to control sound recording which is quite handy for a smartphone. The other features include the battery meter and you can customize the presets like the Filmic Pro.
ProShot works best on Windows phone though, the android users and iPhone users won't be too disappointed. However, it is not a very excellent app like the Filmic Pro or the Cinema FV-5 apps.
You can download this app here —> http://www.riseupgames.com/proshot/
Which app is right for you?
Now, how picking an android mobile over the other can be tricky, selecting the right app is also quite overwhelming. My suggestion will be if you are new to using a digital video camera or a manual camera, go for Open Camera. It is free and has some impressive features for a free app. You can get used to how the manual controls function and then can upgrade to a paid app.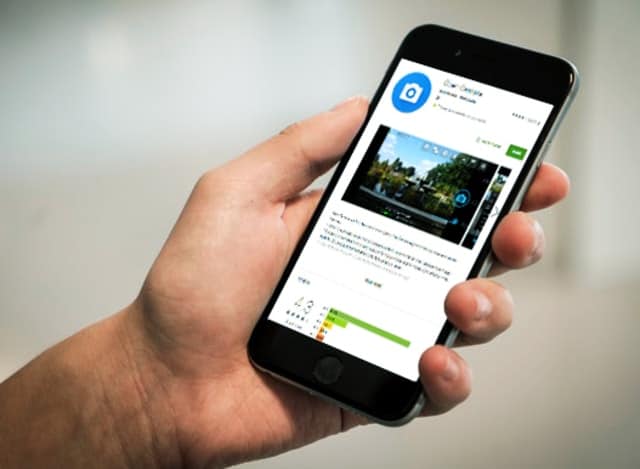 A more straightforward approach will be to use some basic fixed settings like the frame rate and the bit rates.  Lock the exposures and focus on your satisfied settings and then over time, you will understand the basic functionality of each parameter.
To understand which apps suits you better, I suggest trying each one on them. You can always refund the ones you don't like. Every camera and its user have their distinct and unique style. Hence, depending on your ergonomics and comfortability, figure it out for yourself which one is your best friend.