For YouTube videos, a professional camera can be customized for the medium, have better exposure options, and have higher-quality microphones. But they are expensive. So, if you're considering filming with a phone, you must know few things. Read on.
Can I Use A Phone Camera For YouTube Videos? 
Today's mobile cameras can record videos up to 1080p. And, some can even record up to 4K video quality. It means they are more than enough for recording YouTube videos.
For YouTube, If you have decided to use a mobile, you will need a few things. For example, if you want to make vlog videos, then you have to get hands-free tools. If you're going to make informative videos, you will need a tripod stand and lamps. You can quickly record the best video by fine-tuning the settings of the mobile camera.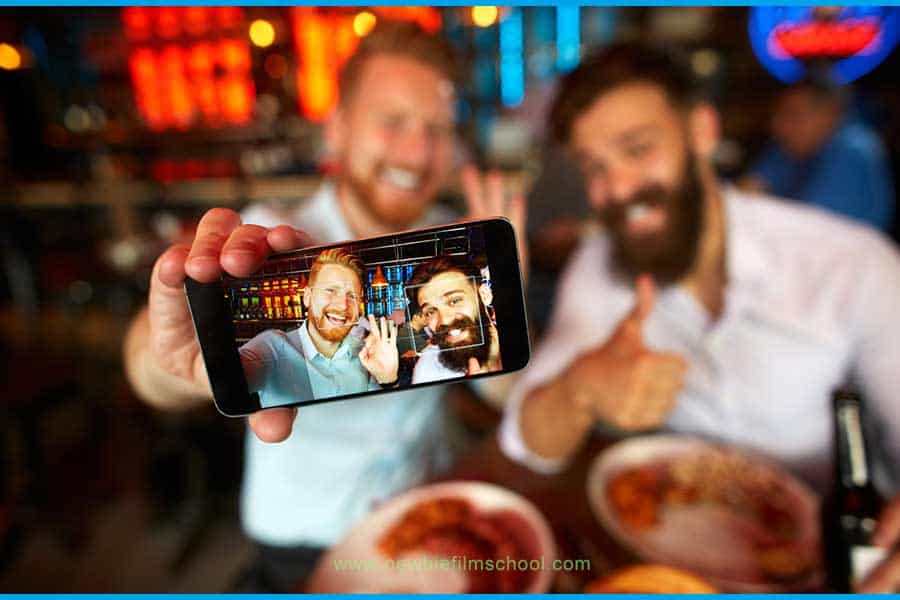 Recording and making videos from mobile is beneficial because the creator knows whether he will be able to do this work consistently or not. 
Also, if you consider it over an expensive camera. 
– It is portable so that the creator can make videos anywhere. 
– It is inexpensive.
– the content on YouTube rules over the video quality.
– The process of shooting is easy and fast.
– The audio quality is improving day by day. 
– There are many video editing apps and filters on smartphones.
So, using a phone for YouTube videos can match the professional cameras nowadays.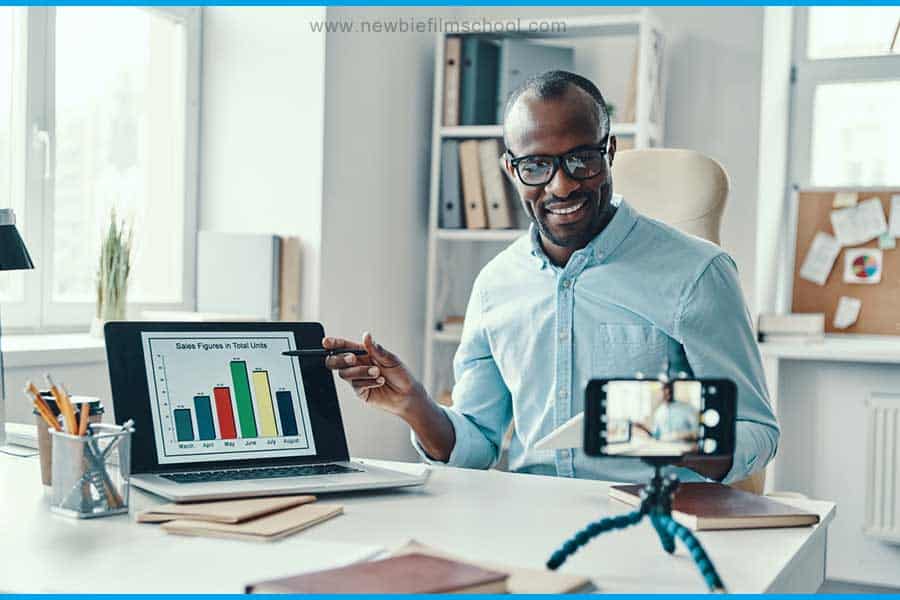 Can You Start A YouTube Channel With A Phone Camera?
There are no different ways to make YouTube videos on mobile. You can shoot anything you think is worth uploading. You can edit the video using editing software like Kinemaster, VN Video Editor, Filmora, or any other software. Some are free, and some have subscriptions.
Editing a video is one of the most important aspects of starting a YouTube channel. Check the process of how to do it after filming it.
The next important thing to start on YouTube using your phone is to transfer that video to a PC/Laptop or edit it on the smartphone itself. 
Audio quality matters a lot in a video, so an external mic proves to be effective for that. Take care that no construction work is going on in the surrounding, which may spoil the audio quality. While filming, use natural lights and minimize the use of overhead lights. Try to keep the lights facing towards you and not above you.
Go to a bright place and record for natural light. Place your phone on a stable surface or a Tripod. If you are recording from the front camera, look at the lens and not the screen. Record in a quiet place for best audio quality and prefer using an external microphone.
Ultimately, the content quality is more important than your video-making skills. The more precise the video is, the more people will like it. That's the beauty of YouTube, where an average blogger can give stiff competition to the big players who use studios and massive productions to create their videos.
There is no point in making a long video if you talk about the topic after a long time. In such cases, people will skip the video within a minute. So it is better to make short videos but give quality content.
You can easily use YouTube Studio App to manage your YouTube Channel on mobile. There are apps to create thumbnails for your videos. Also, you need a good internet connection and a faster phone to upload them faster. That is all you need to start a channel on YouTube, and your smartphone will have no problem doing that.
How Do I Set Up My Phone For Vlogging?
A vlogging setup with a DSLR camera, lights, mics, tripod stand, selfie stick, backpack mount, drone, and editing software may not come cheap. That's why the phone camera should do it without going heavy on the pocket. 
Making a high-quality video will take the same equipment such as a mobile camera, mic, stand/stick, and some cables. Suppose, if you have a mobile phone, you have a camera.
Tripod and Adapters:
Now, you can either take a stick or a tripod stand. A single tripod will give stability to the video. To connect the tripod to the mobile, we require the adapter. Android users are better off taking a universal adapter. iPhone users have Glif-like adapters available.
Mobile Stick:
Stick and microphone are best if you want to vlog outdoors. Stick is better for outdoor, but a tripod stand is the best deal if you are shooting sitting. Quite a few tripod stands are available at a reasonable price. 
Microphone: 
You must have a quality microphone. If you are using your phone for recording, the microphone will come with the phone. But it will be cheap and may not give you high-quality audio, which you can use on YouTube. Hence, to improve this aspect of your videos, you need to spend some money on an external microphone with a mobile device. Rode microphones do the best cost-effective job for you.
Lights:
When shooting indoors, use CFLs as the incandescent bulbs give off yellowish and artificial light. And, natural lighting is preferable. 
Lens:
Lastly, if we talk about wide-angle lenses, it is not compulsory but necessary in some situations. Wide-angle lenses are essential if there's a whole lot of room/volume behind you to cover.
Music and Sound:
Another important aspect is that if you are vlogging and some music was playing in the background or you passed by someplace and music was playing, you need to remove that audio because it might give you a copyright strike. YouTube audio library has free audio that you can use. You need to provide proper credits in the description box. 
Video Editing Apps:
We have written an excellent article on video editing apps. You can go check that out here –> Free Video Editing App for Android Phones
Keyword Tools:
Once you have got everything, now it's time to find an appropriate topic. 
For topic keywords, you may use the Google or YouTube search box technique. Or, if you can afford the tools, then you can use Tubebuddy or MorningFame. And if you are using such keywords that the audience is searching for, but the creators are not using it, then this is most beneficial for you. 
You can also check this Jeven Devoy video for reference:
Phone Vs. Camera For Vlogging
Talking about the phone and camera, both are best in themselves. If we talk about who is better for photography or vlogging, the DSLR camera is technically better. But from a beginner's point of view, then the phone is the best option. 
Content:
The content of the video is more important than the quality of the video. If the content of the video is terrible, then no matter how good the quality is, people will not like it. Many beginners start the journey of vlogging from the mobile phone itself. It shows them their ability. Based on it, they may upgrade their gears. 
Affordability:
What's the point of taking an expensive camera when you can do the same on mobile? Once you have taken good knowledge of how it is done. What can make things better or worse than it's worth upgrading. Buying expensive things directly without any work experience might leave you frustrated and demotivated if things go wrong. The more light in the video doesn't mean a quality video.
Megapixels and Sensors:
Technically talking, sensors of DSLR are bigger than Smartphones. The bigger the sensor, the better is the photo. Megapixels are small parts/components/pixels integrated to form a Megapixel. There are more pixels in the mobile, but because the size of the sensor is small, it is also tiny. Meanwhile, cameras have bigger sensors and pixels, due to which on specs, pixels are less in camera but more in smartphones. 
Technically, cameras have bigger sensors resulting in wider and better pixels and aperture. The processor of the camera is for just one job, and that is photography. The camera is capable of taking dynamic and clear photos.
Lens Options:
The advantage of getting a DSLR is that it gives better image quality, its lenses are changeable, and the aperture is better. Lenses are also available for mobile phones in the market, but even after applying them, you will not achieve DSLR-level photos. So, a device that is meant to do a solely particular job will do better. 
Upgrades:
Talking about vlogging, you have to shoot more videos. And in that case, the phones can shoot up to 4K quality which 75% of the camera cannot do. In such a situation, a mobile camera is better than DSLR or other cameras.
But if you are shooting at a similar resolution, there will not be much difference between mobile and camera. The speed with which the cameras of mobile phones are increasing is commendable. Smartphones are no less than DSLR. Just don't ignore that the mobile camera is not good.
Skill Level:
Technically, DSLR is better than Mobile phones. But a beginner who is just starting should start with mobile. As soon as he earns money from vlogging and feels that there is a need to upgrade, he can upgrade.
Many people are vlogging, and in such a situation, everyone is giving the best video quality. So, the one who delivers the best content may win. 
Gear:
You don't need much gear for phone vlogging. If you don't have sticks or Tripods, your hands can do the job. Phone maneuverability is better than the camera. You can edit videos on it as well. Shooting small videos are better on phones as it is quick and effective.
However, striving for quality, you need a good setup for the camera. Hands can't hold it for long, and editing on it is out of the question.
Storage:
If you want to film long videos with a 4K resolution, your storage will run out of gas. With DSLRs, you have flashcards and storage devices that have faster data transfer speeds than phones. 
Video quality depends on the equipment or gears, and you can improve it anytime. But content is not something that can be bought and made better. So focus on the content and not on the video quality. A decent 720p to 1080p video is preferable. 
How Do You Hold Your Phone When Vlogging?
While vlogging, put your phone either on a stick or on a stable tripod. It will make the video stable. You should always mount the mobile horizontally because landscape videos fit better on the viewer's screen. 
However, if you want to use videos for YouTube Shorts, Facebook Live, or Instagram videos, you must use the Portrait mode.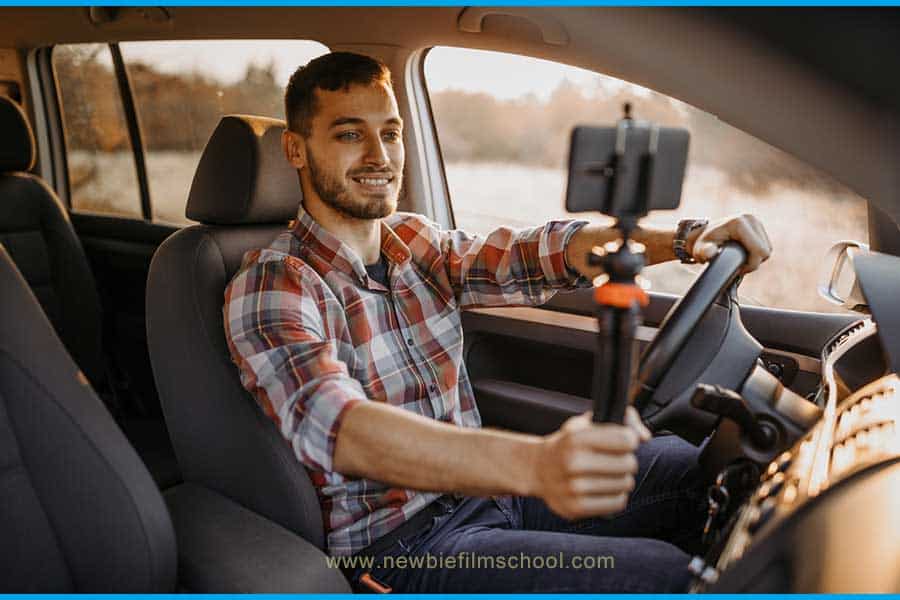 Always look at the lens of the camera and not the screen, which makes it more approaching. Put your smartphone on airplane mode so that no shots are missed or ruined because of upcoming calls. Plan your video in advance and then shoot it, which will save you time and reduce mistakes. 
How To Vlog In The Car With Phone?
Vloggers often vlog in their car, which means that their vlog setup is in the car. Typically vloggers hold a phone in their hand. But keeping the camera in one hand or giving it to a partner while driving the vehicle is not a good solution. 
That's why vloggers have the phone on the dashboard of the car. With this, they do not even have to hold any camera and yet do the video recording. It is pretty easy to install a mobile camera on the dashboard of a car. With just one adhesive pad and mount, you can attach a holder to the dashboard. If the holder rotates 360 degrees, then it is better. 
Quite often, vloggers make the mistake of audio in their videos. Fifty percent of the experience in vlogging is audio. While vlogging in the car, people often complain that there is a sound of the car's engine, due to which the voice of the vlogger is not clear. 
You can use a lavalier microphone to deal with this problem. Vloggers can improve audio quality by attaching a microphone to their shirt or collar.
Often vloggers make recordings from the perspective of the car. The vlogger wants to show people outside views such as different terrains, scenes, or roads in such videos. 
Now in such a situation, people often put the camera on the dashboard on the front side. Or put it on the bonnet of the car. Due to this, the video is shot, but the vlogger has to change the settings by getting out of the car repeatedly. 
And, if the holder is not stable, then the camera is also prone to fall. In such a situation, vloggers can install cameras on the mirrors of the car. Also, it makes it easier for the vlogger to change the settings repeatedly and make an excellent approachable. 
Now that the video and audio recording setup is ready, then it comes to the GPS. It is not right to see the mobile again and again for the map. Better than that, the right idea is to put a mobile holder on the dashboard. 
Vloggers can attach the camera to the car at different angles. Although beginners don't need it, and it's not compulsory either. 
Vloggers often attach a dashboard camera to their car. Such cameras are always on whenever the car is on as this camera is connected to the battery. 
Let's say something happened on the road we wanted to record, but no camera is on, but this camera records everything. This camera is there so that you don't miss out on moments. 
Always keep a power bank handy as the battery of the device gets drained fast while vlogging. Many times people wonder whether vlogging in the car is legal or not. Vlogging in the vehicle is permitted if you use a hands-free tool to hold the camera. 
Tips For Vlogging With The Phone
It takes a lot of memory to make videos on mobile. So keep yourself ready. If you want to keep the file size low, then reduce the record settings. Set video up to 1080p 30fps so that the file size is much smaller than 4K. And, remember to check the battery life of the mobile.
Always shoot vlogging videos in landscape. If you shoot in portrait, a black screen appears on the sides to such videos, which look rubbish. Wider angle comes in the landscape, and the screen fits with the viewer. 
Proper lighting is crucial. If the light on your face is less than your background, the facial area has a little bit of darkness. Avoid being in front of a bright window or open Sun. Avoid backlight and direct light from above. 
Editing is essential even if you don't like it. There are many video editing tools on mobile, using which you can edit videos. Although it can be difficult in the beginning, you will become habitual using it. So keep practicing. 
By thinking, again and again, you can only think of ideas, but by starting, you are one step closer to your goal. So better start!