Do you know how to edit videos with your Android phone? There are numerous video editing apps in the world. And which one is the best? Let's find out in this article the best free video editing apps for Android phones. Read on.
Video creation is a skill, and making a quality video takes time. Many vital aspects have to be taken care of before the final cut. The editing phase is the most crucial one. A poorly edited video might not engage the audience. But a well-recorded and edited video connects the audience. 
Can You Edit Videos On Your Phone?
Generally, you edit videos on computers or laptops with good RAM and a powerful processor. And, processors with a higher number of threads are the best for rendering work. 
Meanwhile, a big IPS display is essential for the best experience and work concentration. Such a setup would cost a lot. Also, not everyone wants to edit videos with great detail, especially vloggers. Content creators of YouTube and TikTok usually edit on their phones. But can you really edit on phones?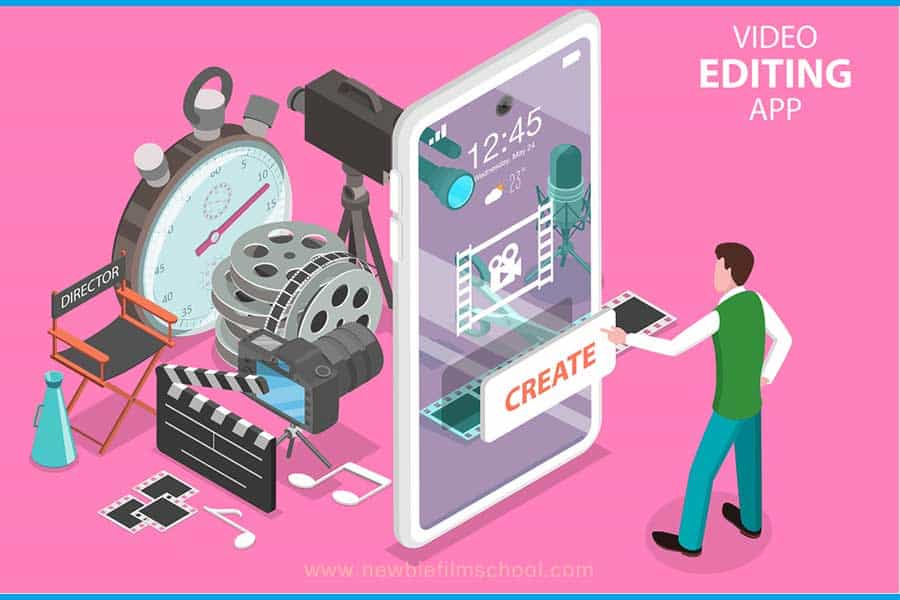 Today smartphones are powerful enough to do video editing. However, the level of editing won't be competitive against Adobe Premiere Pro or Final Cut Pro. 
Still, smartphone apps offer a lot of features for the price. You can do decent pro-level editing on your smartphone using apps. Video Editing apps are available on Android and IOS platforms. They are usually lightweight yet packed with features. 
Storage is the factor giving PC's the upper hand. Today's smartphones are powerful enough to edit and render videos within minutes. But choosing the right one is an uphill battle.
How Can I Edit Videos On My Phone For Free?
Yes, while paid apps are great, there are free ones that offer you various features. Usually, you don't need to register for any service or app to use them, but you might have to pay a few bucks for additional pro features.
There are many video editing mobile apps for beginners like Timbre, but we need to look beyond them to get the best out of these apps.
But First, Let's see some lists of smartphone video applications that are available.
Free Video Editing Apps For Android:
With Watermark:
FilmoraGO
Adobe Premiere Rush
Kinemaster
PowerDirector
VivaVideo
Motion Ninja
VideoShow
Without Watermark:
VN Video Editor
VLLO
CapCut
YouCut/InShot
Quik
PixArt Videos
Kruso
Beecut
Free Video Editing Apps for iPhone
iMovie
Kinemaster
InShot
Magisto
Splice
Videorama
CapCut
Video Editor
10 Best Free Video Editing Apps For Android Phone
1. YouCut – Video Editor & Video Maker
YouCut is a famous, practical, and free video editing app. You are packed with more than 15 features, including NO Watermark. The application also promises not to display banner ads while editing, making it suitable for video making (for YouTube or Tiktok).
It also allows you to control the speed and apply FX effects at no extra cost. You also get access to royalty-free music. 
YouCut is developed by InShot Inc., which correlates with China (Hangzhou InShot Tech Co. LTD). Therefore, if you have an objection to using Chinese apps, this app is not for you. And, if you prioritize privacy over anything else, better look for the following apps. 
2. VN Video Editor
VN Video Editor is a free High Definition video creating app. There's no watermark issue here. This app doesn't contain banner ads amidst editing or exporting the video. And, that's a real advantage. It's an intuitive app that serves the purpose precisely.
The likes of this app are FX effects, music control, overlays, subtitles, speed control, additional transitions, Clip creator, diverse music, multi-layer timeline, and less export time.
So if you are looking for a free video editor consisting of all the basic and moderate level features, don't let yourself deter and quickly try this app. Furthermore, it is an Indonesian-based application. 
3. VLLO
A fancy app with caliber to create aesthetic videos. The app is entirely banner ads free which makes it super clean to use. The UI might give you an essence of professionalism. Earlier the app was completely free, but now pro features are encapsulated until you buy it.
However, the free version doesn't stick watermark on the exported video. Settings like aspect ratio, transitions, templates, timeline zoom in/out, voice-over are enough reasons to consider it as merit. And, it's pretty easy to remove pauses between audio/voice-over speeches because of audio-visual overlay, which is easy to use.
You might have to see a few seconds of advertisement while exporting; the rest of the time, there's no ad popping. 
4. CapCut
CapCut is a virtuous app that is free to use and doesn't even give a watermark. It's an all-in-one solution for video editors. Equipped with effects, transitions, FX Screen, overlaying features, it's just a fantastic app.
However, the UI isn't too user-friendly. But, once you understand it, you will create amazing content. It's available for both Android and IOS. It offers almost every feature discussed in previous ones.
But what gives Capcut an upper hand is "Draft and Undo." Yes! If you mistakenly do something, you can reverse the action. You can also add videos in the draft, set aspect ratio, or set zoom in/out in the video. You may customize your video according to you and export it.
5. Kruso – Video Editor & Story Maker
Kruso is a new app available on Playstore that has gained success quickly in recent time. Just add clips, background, text, pattern, filters, and images freely on your video in few taps. It ensures creativity with emojis and stickers.
The app is quite flexible in setting aspect ratios. The app doesn't display banner ads while editing but to remove the watermark, and you need to view a short advertisement. 
Once you view the advertisement, the exported video won't have a watermark. And, investing 10 to 30 seconds seeing an ad but getting your content without a watermark is excellent.
6. FilmoraGo
How can one forget FilmoraGo when it comes to video editing? Filmora is famous software in the desktop version, and the mobile version won't let you down. The user interface is relatively easy to understand, just import the video and edit it.
It offers you music, transition, filters, titles, and various themes. Meanwhile, you get access to licensed songs. It's fun and easy to create videos for Instagram, YouTube, Tiktok, Facebook, Twitter, etc.
It is a fantastic tool for beginners and advanced. The free version offers you the majority of the features, including trim, cut, crop, color filters, aspect ratio, layers, extract music from video, artistic subtitles, and easy to share. However, the free version adds a watermark which is absent if you opt for premium.
The subscription plans are monthly, annually, and perpetually (one time). So if you want an app packed with all features with the most straightforward UI, FilmoraGo is for you! The perpetual plan would be budget-friendly as it gives lifetime access.
7. Quik: 
Quik is a popular video editing app in the Android store and a good choice for beginners. This video editing app has many simple features and an easy interface, although it can be challenging to use if you are not familiar with using an android phone.
You get watermark-free videos, and inbuilt presets add a professional touch to your videos.
8. Adobe Premiere Rush: 
With creative flexibility to create outstanding content, Adobe's Premiere Rush is undoubtedly a stand-out option. You can tailor transitions, enhance color presets, control speed, customize titles and share it anytime. It can export 4K quality videos effortlessly.
It has two versions; free and paid. With the free version, you can export up to three videos, which gives you 2GB of cloud storage and all features. But to export unlimited content, a premiere rush single app plan is needed. 
We are ranking it low as the free version is limited and not as excellent as the paid version.
9. PixArt Editor: 
If you want a simple-to-use video editor with no complex set of features, PixArt is for you. It offers you basic features like video speed, background, text, and effects.
 "Embellish" allows you to add mosaics, filters, and stickers to the video. The app can only export 720p quality video at the free version. 
10. ActionDirector:
Play Store awarded the Editor's Choice badge to ActionDirector and is a popular editing app for Android. Though it is an advanced and top-tier video editing tool, ActionDirector has a free version that comes with a watermark. But there is a way around it.
During editing, if you don't want the watermark, opt for the removal of it by tapping the "cross." It asks you to purchase a paid plan, or you have to watch an ad. Kindly oblige as you have to suffer such free version quirks.