"No money" is very subjective.Either you are broke, or you only have few dollars to feed your film aspirations."No money" can be for the reason that your filmmaking dreams don't find any support from your family. Or, you can't afford an expensive film school, and you don't want to tear through your parent's pockets to fund your film education. A few million dollars is a "No Money" for a James Cameron but is good enough for an indie filmmaker.
You are not the only aspirant who has passion under his belly and no money to dream. Also, getting into filmmaking can mean anything. It can suggest getting into a film industry job or getting to make your indies. Movie-making is a collaboration encompassing several skills. If you want to specialize in a part like a cinematographer or want to own the whole by being a producer or the director, first you have to find what you want to become.
To get that clarity, ask few questions to yourself like what do you want to be known as? What is that thing which never lets you sleep? Do I really want to direct or I love to write? How badly you want it?
Why am I asking these questions? Because, if you have concrete answers to these, it will keep you going when you don't have the money. It is going to test your patience, but these questions will keep the fire burning inside you.
Thankfully you are lucky to be born in a time when the world is at your feet or to put it literally – Your Thumb. Smartphones with quality video, sound and fast internet connection are all you need to be a filmmaker today. Yes, filmmaking is expensive if you want to make a star-studded sci-fi blockbuster. If you are eager to learn the ropes smartly, filmmaking can be inexpensive too.
The paucity of funds should not act as a deterrent in your dream.There are ways to solve it. Let me attempt to find right answers to getting into filmmaking with no money.
1- Scholarships or Sponsorships:
One should not ignore the film school route. There are many scholarships and sponsorships to the underprivileged. Find out whether you fit the bill. Film schooling is still not getting into filmmaking, but no one can deny that it is a stepping stone.
Other than good exposure to resources and films, theories and practices, what comes out of film school is that free showreel of your work. Showcasing your talent is the only qualification one needs to get into filmmaking.Film School makes it more comfortable.
2- Find a Mentor –
If you or your near and dear ones have any acquaintance to a filmmaker or a person of authority in the film Industry, just hustle your way to become his disciple. Nothing can give you so much education that the one from a master.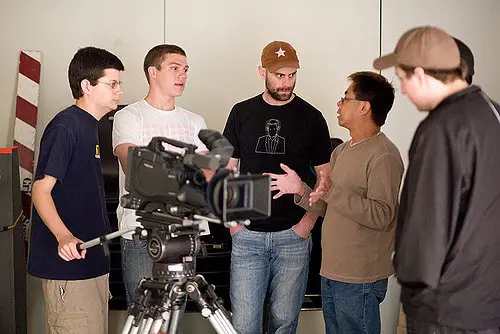 It need not be a filmmaker; you can get trained under the tutelage of a cinematographer, a digital photographer, a musician, a sound recordist, screenwriter, editor or anybody who is one of the collaborators. It will bring you closer to the filmmaking process, and you will have a hands-on training from a master.
You may say – It is easier said than done. If you don't have any connection, how will you ever get that mentor? Well, the film association list comes in handy. Narrow down your picks and start making cold calls. I know you are not a salesman, but if you can't sell yourself, you instead quit because filmmaking is about selling too.
Today, these professionals connect to online forums and social media. They are just an email or a private message away. Platforms like Facebook, Snapchat, Twitter, and Linkedin are useful platforms to access them. It doesn't mean you stalk Quentin Tarantino. There are thousands of them, and few may be looking out for personal assistants.
3- Learn A Skill:
You should be surely be having a filmmaking skill. You may have a flair for writing, or you compose music. Identify that talent. If you don't have any expertise, which I hardly believe you don't have, learn a new skill. Ability to do animations, or editing or videography.
You can learn these skills for free online. There are innumerous resources on youtube, blogs, and forums for free. Smartphones have many filmmaking apps which applies basic techniques of filmmaking.
If you have mastered a skill, get a job in that faculty. Start doing professional work. The exposure is priceless. You are an insider now and are getting paid as well. Slowly spread your wings and expose yourself to other skillsets. In no time, your journey to launch yourself as a filmmaker will be closer.
4- Doing Odd Jobs-
Big movies need large crew. Many works as freelancers and are on daily wages. If you are not lucky to achieve the above approaches, this one is not very difficult. Only, the journey may be longer.
To find these work, try hanging out with the ones who do these jobs. They will put you through. Find work on Facebook groups or Craigslist.Also, hang out in places where you can network with like-minded people. They will not only help to get you some jobs but can become a part of your future army.
Register yourself in the associations so that you become a qualified film industry professional. The road to filmmaking is rocky for many but surviving them with strong mental focus is critical here. You require tons of patience to trudge through the miserable times, but there is always a light at the end of the tunnel. So, be positive and keep your dream alive.
5-  Do it on your Own:
The last option is to do it on your own. As I mentioned earlier, you can showcase your talent with just your cell phone and laptop. After the inclusion of 4k video recording in smartphones, you have a film camera in your hand. It is true, it is too early to compare smartphones to film cameras, but many renowned filmmakers have adopted to smartphone filmmaking because of its portability advantage.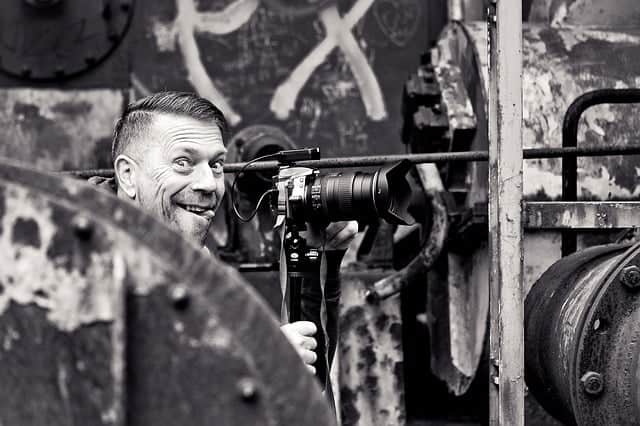 Collaborate with your community and start shooting short films. If it is crap, learn from it and move on. If you discover making a movie the hard way, your journey to success will become smoother. Just keep on creating films and don't overthink. Practice will make you better and smarter. Keep learning the craft and improve your showreel.
Getting into filmmaking with no money is entirely possible. It is just a mindset shift, and you should approach it an open mind. Just keep on refining your skills, reviewing and analyzing your work and continue making films. The money will never be an issue.