"How much does it cost to make a short film?" is the first question that haunts a newbie filmmaker attempting to make a short film. A short film budget broadly depends upon two things – its length and the production design. So, the costs vary a lot if a studio or a film aspirant makes it.
Usually, an average short film costs between $700 to $1500 per minute. But if the story demands a more significant production, the budget can quickly shoot up to $25000 per minute. Here I am talking about live-action short films with a feature film standard of production. And, they may not be including the marketing and promotion budget.
For a Newbie, you shouldn't be looking at numbers and instead, focus on making the short in the cheapest way possible. Initially, if you have no money in the pocket, these numbers are overwhelming. So, it is always smart to be keeping your one eye pinned to the cost while making your film. But it is even smarter to have a ballpark figure ready of how much the short film is going to cost.
When I shot my 20-minute short film, I had a budget breakdown, and we pretty much did a good job with it. My post-budget shot up due to shooting constraints but having an animation and VFX knowledge; I did it myself to balance it off. So, the breakdowns will help you get a rough idea of your costs and then you have to come out with smart alternatives to cut corners and size it under the budget you have.
How to determine an Average Short film Budget:
Length of the Short Film –
The longer your film is, the more shooting time it demands. As per the Academy standards, the maximum length of a short is 40 mins. Some film associations treat under 60 mins as a short film too. Usually, short film duration ranges from 3 minutes to 40 minutes. 20 minutes being the usual standard.
You determine the length of the film from the pages of your script. One minute per page is the standard. Knowing an approximate length is essential to understand the cost of your movie. So, if your film is about 20 mins, as per the assumed average short film budget, the film should cost anywhere between $2000 to $ 30000.
No beginner has so much money. Hence, for a newbie, the most critical aspect of low-cost film-making lies in the script. If you can write a story which is not very long and has low demands on the production, you can pull it off at a much lower expense than what an average short film budget is.
Production Value –
The production design of the film is the most demanding expense for any movie for that matter. It is essential to have the right look and feel of the genre you are diving into, but at the same time, the costs may not be under your control if you think of a Science Fiction, War, Period, or a Fantasy film for that matter.
Also, if you do it for cheap, it shows and brings the standard of your film down substantially. Now, in this tricky situation, if you still want to make a movie which needs excellent art and costume design, the production costs involving such themes should be well researched and accounted for.
Sometimes if you want to create sets, due to economies of scale, the costs kind of lower on average if you shoot for longer days. However, the crew, location, rentals, and other variable costs add up.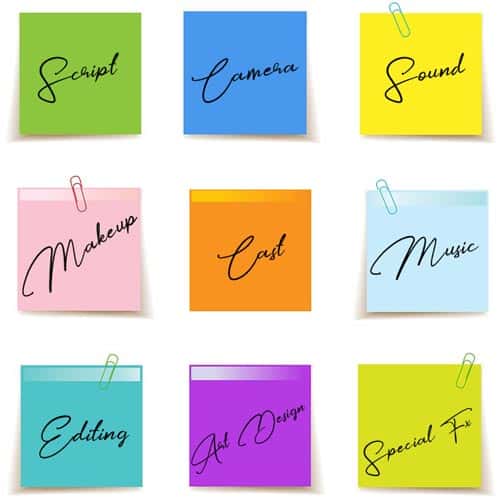 So, let us break down the numbers into smaller chunks and have an idea of where the majority of the bucks are going.
1- Pre-production cost-
Although it is negligible, you should keep the preproduction costs into consideration.  The costs of scouting for locations or shooting recce, initial selection meetings, hiring a writer and assistants do come in these costs.
Production Design plan and visualization also are a part of the pre-production costs. Hence, choosing a script which is bereft of any high-cost art design is key to a newbie's journey to short film making. But when it comes to numbers pre-production costs shouldn't exceed $500. The lower is $250.
2- Production Cost –
Daily Production costs or shooting costs eat the significant chunk of your budget. So, choose your script wisely and design and plan things with someone who is an expert in calculating production budgets. Roughly they consume  75% – 80% of your film budget. It includes your daily location costs, crew wages, equipment rentals, costume and art design costs and other services.
For a newbie, it is always smart to shoot in free locations, available lights and affordable production costs. Daily production costs can be anything from small meals for your crew to a big generator truck which doesn't even play a role on the screen.
If you are not aware of little things, the production costs quickly pile up to mountainous proportions. Let us do a breakup of those costs.
Location:
Considering you are not making a Hollywood movie where a location and permits cost between $2000 to $20000 per day depending on the size and type of the site.
For a short film, you should keep an estimate of $250 to 500 per day including the services. Newbies should focus on free locations, but it should have easy access to power and other shooting related needs.
Cast:
Casting is tricky and depends on the number of actors you have in the film. For a short movie, you should not be looking at actors under the Actors Guild as they come with the baggage of health insurances and guaranteed wages.
You should look to hire the ones from acting schools or freelancers. The actors should cost an average of $100 per person per day. But it is always advisable to give them a lump sum and fix it for the film. This way you can bring the cost down to $50 a day if you negotiate wisely.
Crew:
The main crew members you need for your short are the Cinematographer, Sound Recordist, Direction assistants, Art director, Makeup artists, costume designer, grippers, and gaffers.
Cinematographers don't usually charge higher rates for short films. It ranges from $150 to 300 per day. The good ones demand between $500 to $1000. You should fix a rate for his entire team.
The Sound Recordist is vital if you need to record sync sound and hence the costs range between $150 to $250 a day.
The Direction team should cost anywhere between $100 and $150 per day.
Makeup Artists are essential, and the kits costs are substantial as well. It is better to hire them from the schools. You should check them out before finalizing and negotiate them to include the value of the kit in that rate. You can manage them between $100 to 150  a day which is a steal.
The Gripper and the Gaffers should add up to another $200 per day in total.
Costume if needed should be dealt with the designer on a negotiated price. If you rent them, it should not add up to more than $100 per day for the entire cast.
Additional equipment such as fog machines and rain machines should be included in the camera hiring costs.
Types of equipment:
Equipment is expensive, and they are in plenty. The camera costs between $150 – $500 a day. The lenses add up to another $50 to $150.  The grips and jibs can go between $50 to $200 depending on the need. The Gaffer's lighting equipment hires are between $150 to $250 on average. The sound equipment usually is included in the recordist wages, and that's a relief. Other kits add up to another $200 as per requirements.
Art Design:
You should avoid creating sets for short films as they will shoot up the budget immensely. However to give authenticity to the frame you need props and some set extensions to support the story. Constructions of sets require manual, and they are many.
You should keep a budget of $300  for the art and another $200 for the staff.
Other Production Services:
You need spot boys and caterers for refreshments and meals. Portable toilets and other outdoor equipment like public address systems, water storage, etc. are necessary if you shoot at distant places with no access to such things. They quickly raise the budget by another $200 per day.
3- Post Production Cost
Editing, Sound Design, Music and VFX form the primary cost of post-production.
Editing:
The editor fees and the editing studio costs are separate. But for a short film, you should always hire editors who have their editing suites and do not function on an hourly basis. Usually, you should offer them a package between $500 to $1500 depending on the length and the time they need for the editing.
Sound design and Music:
It should cost you another $500 – $1000 if you offer them a package. You should be on the lookout for talented guys who are hungry for recognition.
VFX:
Visual Effects and 3D Animation are costly, and you should usually avoid it or hire students or undergraduates who are raring to do it for cheap. You will lose your sleep if you hire a professional.
Digital Intermediate:
Digital Coloring the film is a fashion nowadays, and for short films, they play a vital role in enhancing the quality of the film. A good colorist can charge 100 per hour which is filthily expensive. Crack a deal with an enthusiast who can do it under your budget. You should keep a budget of $500 on an average for the whole film.
For a short film, a lump sum budget gives less stress to the filmmaker, and the whole post production cost shouldn't exceed $3000.
4- Marketing and Promotion-
There are thousands of film festivals where you can showcase your work. But, many of them have a fee and the courier charges to send the hard copy isn't cheap either.
There are platforms where you can upload or your film and send the link to many reputed festivals to participate. Some of them are Film free way , Without a  Box , and Short Film Depot . Their services are free and have thousands of festivals in their database. You have to pay for the paid festivals. You should keep a provision for another $1000 if you want to participate in many and have broader exposure.
For more idea on budgeting for marketing and promotion Check our article on – How to Sell a Short Film Easily
4-Final Words:
So, how much does it cost to make a short film? There are so many parameters in the storytelling you find it difficult to come to figures.
To sum it up the Pre Production costs about $250 – 500, the Production costs between 10000 – 20000 in all and the Post costs another $4000 – $6000. It is an average budget for a 20-minute film. So, how much it all adds up to? If we take an approximation, the total cost is between  $15000 to 26000 for a twenty-minute film. So, the per minute costs between $750 to $1300. But a comfortable range is between $700 – $1500 per minute.
For a Newbie, as I said earlier, you should not look at such figures. I know many short filmmakers who make films under $100. Yes, they look cheap and below standard. But a beginner should attempt a 20-minute film only when they have little control over the craft and confidence to shoot under a budget. For the time being stick to 3 to 5 minutes films and use cheaper mediums like smartphones to get the hang of short film making.