Vlogging video needs a person communicating virtually with his audience and articulating things to the best of his knowledge. A lot of vlogging is recorded while driving nowadays. So the first thought that comes to our mind is- Isn't it dangerous to vlog while you drive? Is it even legal to do so? So if you intend to vlog while driving, we have got you covered in this article with all the answers.
Is Vlogging While Driving Illegal? In the first instance, it sounds like an illegal activity that shouldn't be entertained or allowed. Maybe because looking at the phone or camera now and then distracts the driver. 
Even texting while you drive is dangerous indeed. An average text takes 5 seconds, and in those 5 seconds, a distracted driver can mess up the situation. Similarly, getting your eyes off the road for 3-5 seconds can be of enormous risk. 
Well, today, vloggers use hands-free cameras to record their YouTube videos while driving. Just hit the record button and begin. While driving is a harmless practice if you operate hands-free, its legality depends on the geographical aspect. Usually, vlogging while driving isn't an illegal activity but "distracted driving" is an offense. 
Distracted driving is driving using a smartphone, texting, handling music control, not looking on the road, or zoning out. The distractions can be of three types; Visual, Manual, and Cognitive. 
Vlogging while driving isn't illegal in most countries. But it's crucial to maintain traffic rules.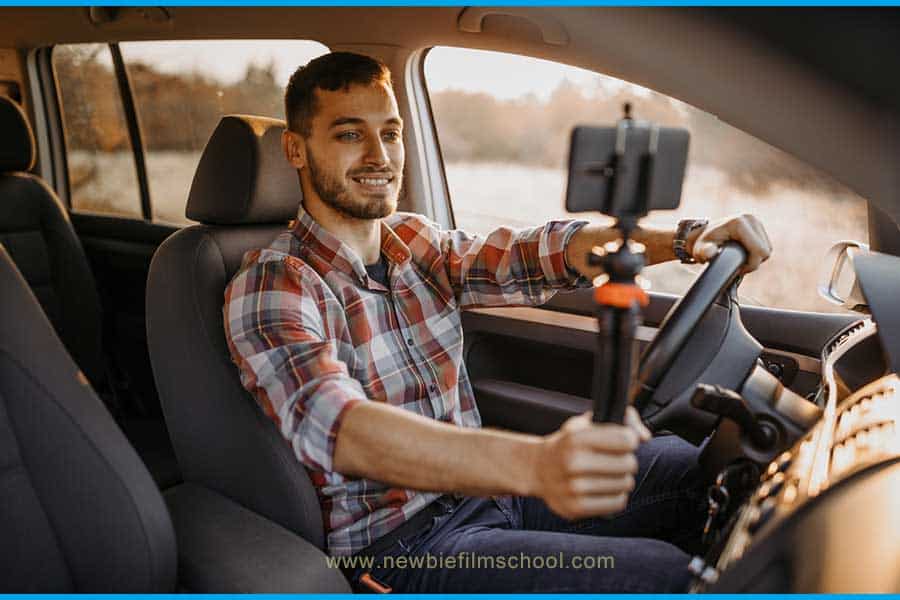 Can You Vlog While Driving?
Vlogging while driving a car or bike is illegal if you use a mobile phone or handheld vlogging camera. People often receive texts or call while driving; thus, using a handheld camera for vlogging is illegal. But if you use hands-free vlogging cameras, there's nothing to worry about. In the United Kingdom, people are fined around 200 pounds for using a handheld phone and camera while driving. 
Dangers Of Vlogging In The Car
Vlogging while driving can be dangerous behind the wheel. Tom Scott visited the University of Iowa's National Advanced Driving Simulator to give an end to his question, "Is it dangerous to vlog while you drive?"
The simulator tracks the driver's reaction in a repeatable and controlled environment. It also tests things that can be unsafe for drivers in the real world. Tom faced an unintended acceleration scenario where he needs to identify the situation and apply brakes quickly. 
The test lasted for 15 minutes of vlogging and 15 minutes straight driving. As Tom was on the wheels while talking to the camera, he was missing certain information. Generally, a driver's eyes off the road can be fatal. However, even while looking ahead, attention pulled to another task can cause a driver to miss certain information. 
Source: Tom Scott
As a result, Tom missed a red signal even when he was looking ahead. Why? Because his brain was busy thinking about the following line he needs to say. This type of unintentional blindness (even eyes are on the road, but the mind isn't attentive) can be fatal. He also missed "School Zone" information and went 22 miles per hour instead of 15 miles per hour. 
Distracting driving by any means can be fatal not only for the passengers but also for people in the surrounding. So basically, filming while you drive is dangerous! The driver might miss certain information like a traffic signal, road safety signs, or even crossing pedestrians. 
Is Recording Videos While Driving A Car Legal?
Recording videos while driving is illegal if the driver holds the recording instrument in one hand and handles wheels with the other. Meanwhile, it is legal to record videos if the recording tool is attached to the dashboard. Cams on dashboards are helpful in cases where the driver needs to prove his innocence. Documenting the recorded videos can be valid if pulled by the police in any road accident or conflict. 
Vlogging Permissions/ Rules of Driving? ( Country wise Classification )
United States of America
In the United States of America, vlogging while driving isn't illegal if and only if the driver is using a hands-free camera to film. It is entirely illegal to use phone or handheld cameras for vlogging in the United States.  You just need to obey the traffic rules and use hands-free equipment for vlogging. 
Source: NATIONAL HIGHWAY TRAFFIC SAFETY ADMINISTRATION
Casey Neistat is an American Youtuber, filmmaker, and vlogger. He has some breathtaking vlog videos on his YouTube channel. And he hasn't faced any issue recording stuff yet. 
United Kingdom:
The UK has similar rules as the United States for drivers and vlogging. If caught, a 200 pound fine and 6 points on the license. And, 12 points could detain your license. Thus, if you have been driving for less than two years, you could lose your license. And, Learner's license is banned. 
Famous vlogger Zoella was accused of taking her eyes off the road at least six times while driving. The police warned her not to repeat it. 
Europe
In Europe, it is illegal to use a handheld phone. All EU Countries allow the use of hands-free phones except Sweden. Only Sweden enables drivers to drive with hand-helds. But few things to keep in mind are; set up a device before you are on the move, police can stop you if they find you distracted from the track, and you might face points, fines, or ban. 
Canada
Vlogging while driving in Canada is not illegal. Even in Canada, the rules remain almost the same. The use of hands-free equipment is legal. Peter McKinnon is a famous Canadian Vlogger who has some fantastic filmmaking vlogging styles. 
Australia
Australia is a beautiful country with wildlife preserved, and such an environment makes people explore it more. Vlogging while driving remains legal in Australia as far as you follow the traffic rules. The set of rules also stays the same—no use of mobile or camera while driving. 
An Australian family found a good idea for vlogging, which is absolutely legal. A woman vlogger with her family went on a trip. Her husband was driving the car, and she was vlogging. 
India
It is not illegal in India. However, according to current policies released by the road transport ministry, you should use hands-free only for navigation. And, as far as the ministry hasn't released any vlogging during driving rules, it is safe to say, "Vlogging while driving using hands-free is legal in India."
Please note, the rules may change later. So, please keep your eyes on your regulations on the land from time to time. We at no point can be held accountable or liable for your offense if committed.
What Is Legal In Vlogging While Driving?
So, the question arises then, what is allowed in vlogging when you are on the road? Here are the following suggestions:
Use of Handsfree Tools like Camera/Phone Holder
Use of GoPro Camera is the best bet as it is handy.
Prepare your tools before driving because if you are caught setting them while driving, it can be considered distractive driving. And that's illegal.
Always script the video before recording it.
Have another person hold the camera.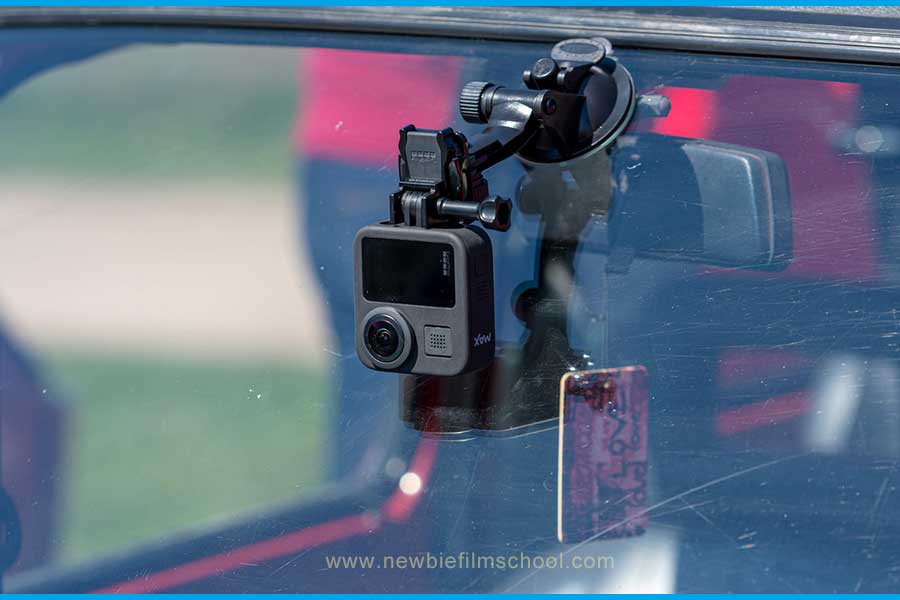 Related Questions
Is It Legal To Shoot From The Phone On The Dashboard?
It is legal to shoot from a phone on the dashboard if placed on a hands-free stand. Meanwhile, it shouldn't interfere driver's vision. So the placement of hands-free equipment should be proper.