If you are a pretty observant video creator looking for a cheaper and an effective alternative to Macbook Pro, did you consider the latest Macbook Air? Apple's MacBook Air 2020 M1 which is is the new successor to the previous generation of MacBook Air. But will this new laptop be good enough for Video Editing? Read on.
Is The Latest Macbook Air Good Enough For Video Editing?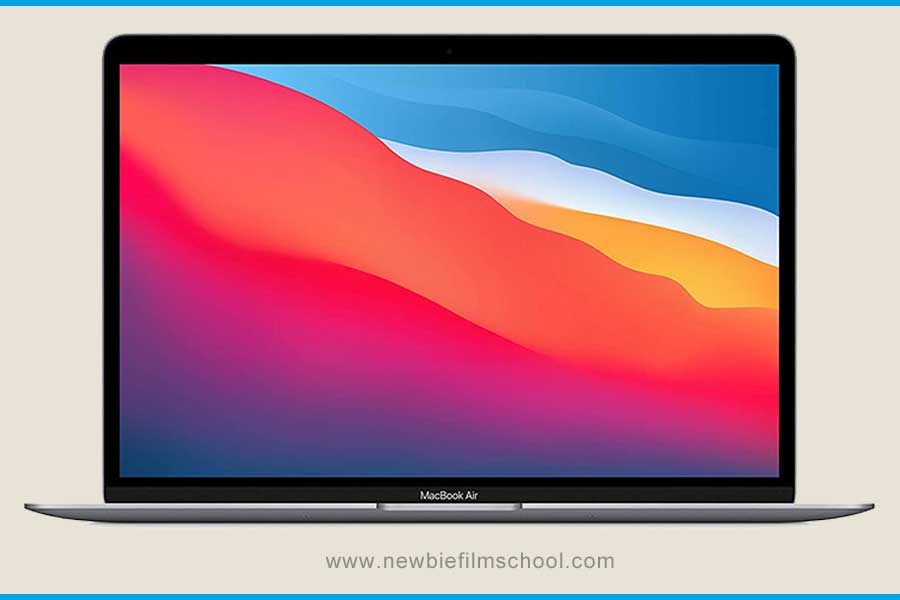 Apple is famous for creating productive items that are worth your money. However, experts still raise questions about the operation of the latest MacBook Air for video editing. Is the laptop good enough for experts or beginners in video editing? This section will answer the question of the performance of the latest MacBook Air in video editing.
Macbook Air 2020 M1:
The latest Macbook Air 2020 M1 has a 3.3-inch diagonal LED display with a backlit display and a dedicated Apple M1 chip. Ram is 8GB configurable up to 16 GB. The CPU is 8 core ( 4 performance cores plus 4 efficiency cores), and the GPU is 8 core too. The 49.9 W lithium-polymer battery will last up to 18 hours. So, now let's look at it from the video editing point of view:
1. High Metal Graphics: 
The latest MacBook Air has high metal graphics, which assist videographers in creating impressive videos by integrating the graphics and details. This feature helps every videographer to realize their power since they can use the graphics code to create a unique video. It enables you to advance the story you want to tell. Suppose you want to advance your story, then this MacBook is an excellent choice.
2. Faster Graphics Performance:
It has fast graphics performance and is currently the fastest among all the MacBooks available ( even MacBook Pro). When rendering graphics, animations, effects, color, and titles, this laptop is the best. As a result, it is the best choice you can have for any videographer since it allows them to create a story with powerful features.
3. 4k Video Stabilization: 
When shooting any video, videographers have to deal with camera shakes that damage the quality of the video. The video stabilization features help you to get rid of unnecessary shakes and achieve precise details. The latest MacBook Air has fast video stabilization features. Some MacBook Pro may surpass it on this feature, but it is still powerful. 
4. Standard 4k Footage: 
The latest MacBook helps you achieve a perfect playback. With this feature, you can comfortably edit all the details. 
5. Handles Heating Well:
This MacBook Air doesn't include excessive heating. Unlike the previous versions, which heated the bottom part fast, this option features a warm environment that is comfortable to use. Additionally, it is fan-less hence operates quietly. 
So, Is the latest MacBook Air good for video editing? Yes. It features high-quality features that offer you powerful video edits. From the above details, you can tell that the latest MacBook Air is worth your time, money and is among the best assistants in video editing. 
Can I Use The Latest Macbook Air Instead Of Macbook Pro?
For years, MacBook Pro has surpassed the MacBook Air in many features, especially in video editing. However, the MacBook 2020 M1 has what it takes for a perfect video editing session. Many experts claim that the difference between the two products is currently negligible.
Also, the MacBook Air M1 is almost similar to MacBook Pro hence high-quality features; the former is more affordable. ( check the latest price on Amazon) The Graphics performance tests have shown better results than the MacBook Pro.
Is a MacBook Air Good for YouTubers?
YouTubers create content and share it via YouTube for the world to see. As a result, YouTubers need video editing equipment to make excellent videos. Among the editing tools, MacBook Air is a standard option. However, is this laptop good enough for your videos? This question is common since MacBook Air previously had a record of poor editing performance compared to MacBook Pro.
However, with the latest MacBook Air option, YouTubers can depend on this laptop for powerful editing. Generally, as we make videos, camera shakes are inevitable. The device offers a robust 4k video stabilization allowing you to remove any camera shake issues. Also, the process is fast.
Additionally, it includes a fast graphics performance. The latest MacBook has the fastest graphics performance available, allowing you to include effects, powerful graphics, titles, and animation quickly.
As a newbie, buying a MacBook Pro is expensive, especially when having financial strains. However, a MacBook Air is quite affordable for all to buy. Not to mention, the difference between the latest MacBook Air and MacBook Pro is the price. 
The latest MacBook Air 2020 M1 is among the best editing tools a YouTuber can get since it operates quietly and doesn't overheat. Besides, it is lightweight for easy portability.
Is iMovie good on MacBook Air?
iMovie App is a video editing application under Apple that enhances video effects and brings out more details. You can use iMovie with MacBook air. You could have accepted the previous versions of the MacBook Air, but the speed was slow, making it hard to match the MacBook Pro versions. 
Note that despite their inability to compete with MacBook Pro, when editing your videos, the playback option is available, has smooth operation, and is easy to interact with as you edit your work.
However, the latest MacBook Air guarantees you a better experience with iMovie. It is a better option than the previous MacBook Air versions and is competitive enough to match the MacBook Pro. This MacBook Air allows you to use all the features comfortably, and the processes are fast. Is IMovie good on MacBook Air? Yes. It works well, especially with the latest MacBook Air.
Conclusion
Videographers have one goal, deliver high-quality videos that tell a story. However, what people don't understand is that it goes beyond taking good videos. Generally, taking high-quality videos is excellent but dealing with issues such as camera shakes is inevitable. 
Therefore, to achieve the best videos, there are other things you must keep in mind. Video editing is the best option to ensure excellent videos. It makes sure that it erases any problem in your work.