Out of all the types of video cameras out there, which one of them should I buy? That is a question that often plagues videographers. Regardless of whether you are a beginner or a professional, what you need is a camera that's right by you. In most cases, you already know what you need. However, the problem arises once you get the many options to consider.
The camp that suffers most is one of the beginners. After all, they don't know much; hence hard to make a choice. Fortunately, this piece discusses something crucial, various types of video cameras. As a beginner, it would be wise to have them at your fingertips. There is also additional information to know about, which is also in this article. So, keep reading.

How Many Types of Video Cameras Are There?
There are various types of video cameras, and we are about to discuss the seven common ones. Check them out.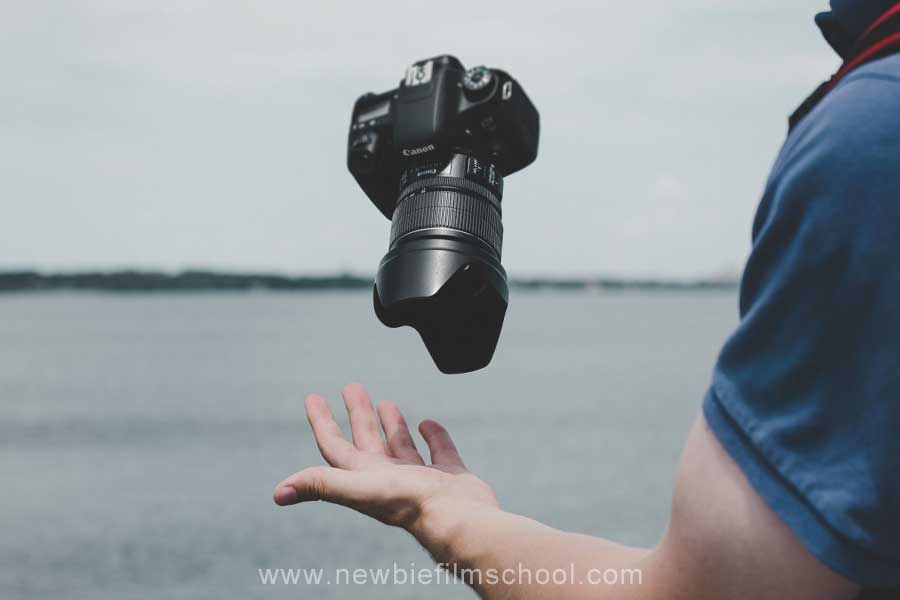 DSLR Cameras
DSLR cameras have a wide array of features, including slow motion, autofocus, and selfie mode. Their depth of field is also shallow, and another additional feature is time lapses.
Users can choose among various image acquisitions since their sensor sizes are relatively large. It is also important to note that they are capable of shooting 4K.
Consequently, you should be rest assured that the images will be stunning and, above all, cinematic. If a need to shoot a selfie arises, you don't have to worry because its LCD screen articulates accordingly. Thanks to their time-lapse transitions, they tend to shoot high-resolution videos.
Uses
This type of video camera comes in handy when creating YouTube videos. The great thing about Youtube is that it supports various types and styles of video production. These cameras are suitable for this flexible platform because they give you the liberty to choose sensor sizes.
Equally important, their sensor sizes are ideal for this kind of job. You may not be in a position to determine its location. Luckily, DSLR is small and compact hence useable in almost every place you find worth capturing. They are also not limiting in terms of what one can do with them.
Shortcomings
The features, inner components, and high quality come at a cost. Therefore, you are assured that DSLR cameras are more expensive than most other video cameras.
It needs frequent maintenance and a lot of care if you want them to continue working perfectly. Sometimes, a professional is necessary for that and cleaning.
Its many features coupled with its manual nature may make it hard for beginners to use it.
If you have to move around often, this may not work for you. It is pretty bulky hence less portable.
They could make your neck and back suffer if you have to carry them often. After all, the cameras are bulky, large, and heavy.
You will need to procure extra accessories, which means incurring additional costs.
Price Range
Various DSLR cameras have different features. Consequently, their prices also differ from one model to the other. However, the least you should plan to pay for a decent video camera is between $460 and $535. As for the high-end ones, the price can be as high as over $5000 to almost $7000.
Popular DSLR Video Cameras
Its sensor has a resolution of 24.1 megapixels. One of the reasons it is popular is its excellent quality yet comes at a pocket-friendly price. The sensitivity is at another level, courtesy of its 39-point autofocus. Its refresh rate is 4.9 fps at 32 frames. Its battery life is enough to capture up to 500 shots after a full charge. It works perfectly with moving subjects. Expect the best white balance, autofocus, and exposure. After all, the camera automatically recognizes the scene and chooses the ideal settings. Last but not least, it is lightweight.
Its sensor has a resolution of 18 megapixels. Its ISO is between 100 and 6400, but you are at liberty to expand it up to 12,800. Expect sharp and clear footage thanks to the 920K screen resolution. You can transfer images using NFC or WiFi. So go for it if you plan to record 1080p videos.
Mirrorless Cameras
A Mirrorless camera is one of the top types of video cameras you can purchase for your everyday videography. They are interchangeable lens products where the videos shoot form electronically from their sensor and, in most cases, display it on the back.
The camera is lightweight, hence the best option for a professional looking for easy-to-handle cameras but resulting in high-quality videos. The manufacturers include quality sensors that act like digital converters, capturing light and turning it into signals that result in images. In addition, these cameras give every videographer a manual control system to alter them depending on their taste, preferences, and the environment they are working in to take the videos.
The video quality of these video cameras is excellent since most of them include continuous autofocus and 4K recording features. In some cases, they have a viewfinder. Also, they are among the most silent cameras even though they include the quiet mode option. When it comes to the shooting speed, mirrorless cameras can take videos at a high frame rate since it doesn't have a mirror.
Uses
Mirrorless cameras are helpful to people who often take videos spontaneously, that is, people who frequently travel and like shooting videos. The lightweight feature makes these cameras easy to carry around everywhere you go.  It is the best for this situation because it has a unique autofocus feature that works with a sensor directly; hence, you don't have to worry about back and front focus complications.
People shooting live videos are famous, and if you are observant, you realize that some videos have better quality than others. The reasons for these details may differ, but the type of camera plays a significant role in most cases.
Mirrorless cameras are the top options for this job. They feature autofocus and the 4K recording features to improve the videos even without much focus.
Shortcomings
There are few choices for their lenses; hence the upgrades choices are limited. In most cases, videographers settle for DSLR lenses since some of them work with the camera.
Mirrorless cameras include small-sized batteries that don't last in a long video shoot since their battery life is low.
They are more expensive compared to their number one competitor, the DSLR cameras.
When taking videos, they have a slight lag to follow an action.
Price range
Mirrorless cameras are the latest upgrades in camera technology; hence the price is higher than others. The body of the camera is overpriced and may range between $300 and $1000. For the lenses, most of the options available are limited and expensive. However, the high-quality videos compensate for the investment you make to get these types of video cameras.
Popular Mirrorless Cameras
Sony is one of the biggest manufacturers that are working on mirrorless cameras. They include excellent inbuilt software. The manufacturer, in most cases, consists of a viewfinder making it one of the most excellent mirrorless cameras. Besides, it has lens options for videographers to choose their top pick.
It is one of the most miniature mirrorless cameras hence simple to navigate. Furthermore, the product includes physical control dials that easily allow videographers to switch from one setting to another. Additionally, it goes well with most of the old lenses available hence the best option for people who prefer switching from one lens to another.
Digital Camcorders
Digital camcorders have an ergonomic design that allows you to mount them on your shoulder or hold them in your hand. They are lightweight. They allow you to use microphones as well, thanks to the audio inputs for the same. Other features worth mentioning are fixed zoom lens and autofocus. The resolution is also impressive, allowing you to shoot either Ultra HD 4K or full HD depending on what you deem fit..  
Uses
Digital camcorders come in handy when doing several tasks. Let us look at the best situations to grab a digital camcorder.
Thanks to their ergonomic and lightweight design, digital camcorders come in handy when shooting events. They are also suitable for journalism. In addition to that, they store video files in relatively small sizes. Under such circumstances, managing them is simple and if the need arises, editing while on the move is possible and, above all, easy.
They are mainly made for applications involving on-the-run moving. Sometimes, you want to shoot a video, and time is of the essence; hence no time to set up your camera to shoot. In other instances, the light is either too little or too much. You have no control over either the subject or location as well. That's where digital camcorders come in handy. Upon editing it accordingly, the digital camcorders allow you to share them via your social media accounts.
They also come in handy when making documentaries. Professional documentaries are ideal for the job since they have a top-notch color space. That, coupled with high bitrates and large image sensors, makes them up to the task.
Their built-in zoom lens is of high quality as well. Thanks to being interchangeable, its lens system gives you a chance to change the lens to your liking. A documentary can be shot in different circumstances. For instance, there is a time to be around a crowd in a sports field or arena and another one to conduct in-depth interviews, probably with a single person.
In short, it is crucial to be prepared for anything when shooting a documentary. That's where its in-built image stabilization and autofocus features come in.
Shortcomings
Most of them, especially the professional ones, are relatively expensive. Therefore, unless you can afford them or buy them for money-generating gigs, you may not feel the value for your money.
They are also bulky hence tiring to hold them in your hand, especially for a long time.

Price Range
Interestingly, it is possible to get a digital camcorder as low as below $100. However, most of the cameras are primarily second hands. On the other hand, expensive ones are going for several thousands of dollars.
Popular Digital Camcorders
Panasonic HC-V180EG-K Full-HD Camcorder
his digital camcorder is ideal for shooting distant footage. The 90x digital zoom and 50x optical zoom facilitate the capture. There is no need to worry about shaky footages since it has an image stabilizer.
Sony HDR-CX450 Full-HD Camcorder
If you intend to record HD videos, this digital camcorder will serve that purpose perfectly. Its lens, which Carl Zeiss made, measures 26.8 mm. it is lightweight since its weight is 195 grams only. You get two zoom options, namely 60x digital zoom and 30x optical zoom. It puts many image effect programs at your disposal. Equally important, it has facial recognition.
It is small, sleek, and lightweight hence easy to carry around. It is easy to record, see what you have registered, and share the videos with friends and fans. Its resolution is full HD 1080 with a refresh rate of 30 fps. It uses WiFi and uses a rechargeable battery.
Point-and-Shoot Cameras
As the name suggests, point-and-shoot cameras simply require you to point the camera towards your subject then shoot. That's one of the reasons they are recommended to beginners.
You don't need to know much about their videography to use them effectively. Neither do you need to be pressing various controls as you record footage?
Their lens system isn't interchangeable; hence will never have to struggle to change a lens. Their small size and compactness have seen them qualify for the best traveling companion.
Uses
As mentioned earlier, they are not suitable for commercial use. However, you can use the cameras to record great moments for your children for future reference. If you have home pets such as dogs and cats, the camera can be ideal.
The point-and-shoot cameras are excellent if you intend to record an event such as a birthday or a school occasion. These types of video cameras are also perfect for vacations..
Shortcomings
They are not ideal for someone who wants to learn how to shoot videos. 
Since you don't control the camera, you never get to learn that concept, either
It has only one zoom lens, which is not interchangeable

Price Range
It is important to note that a camera can be in any other type of video camera and be a point-and-shoot model. Therefore, the price range is significant depending on the parent type. For instance, DSLRs are expensive, and some of them are point and shoot at the same time.
Popular Point-and-Shoot Video Cameras
The lens has a 20x clear image and 10x optical zoom. That coupled with a sensor of 18.2 megapixels guarantees clear images, notwithstanding low light. It also has an engine that reduces background noise. Expect full HD 1080p video recording with up to 10 fps. It is easy to connect with other devices via NFC or WiFi. It is also perfect for moving objects.
Expect zooms of up to 28x and 56x for the optical and dynamic fine, respectively. Consequently, the quality of the videos will be excellent. The sensor, 20.2 megapixels, also facilitates that and HD videos. It uses batteries. The HD 720p resolution makes it ideal for shooting videos too.
Smartphones Cameras
It is not unheard of where videographers use smartphones to take videos, and yes, smartphones available nowadays can shoot amazing 4K videos. With the right skills and a great environment, it will result in good videos. The smartphone's cameras will not produce videos that measure up to what a professional camera can do.
Still, most professionals can work with it, especially when they are no other options. It is an excellent option for people who love recording videos for fun or as a way to remember a place. However, if you are looking to earn an income, smartphone cameras aren't the best. Even with a lot of editing, the results won't compare to professional cameras.
Uses
It is the best for novice
As a beginner in videography, you may have to deal with budget strains; hence, smartphone cameras are the top option. You don't need the skills, plus many video editing apps are available to help improve the video quality. Besides, most people own smartphones; hence most newbies often kick off their career with these cameras.
These cameras are the best when you take videos on impulse since smartphones are always in you compared to heavy DSLR cameras. In most cases, professionals carry them with a purpose. Smartphone cameras come in handy during trips where you take videos to appreciate a scene.
Shortcomings
These cameras are not good at focusing on moving objects; hence professionals should stick with professional cameras like DSLR, Mirrorless, and more.
Autofocus speed is low.
They are terrible in situations where you need a telephoto lens.
A smartphone includes a camera; hence, the sensors are small-size, making it challenging to shoot good videos in a low-light environment.
Fixed lens making it impossible to interchange your lens. Most smartphones offer at most four cameras to compensate for this lag, but it is still unable to match up with a professional camera.
Price Range
The top smartphone cameras may range from $250 to $400. This price may seem high but fit since you will get a camera and a smartphone. Unlike other cameras where your top considerations are the camera features, most people buy smartphones considering more things other than the camera features.
Popular smartphone Video Cameras
It is a smartphone with a 4K 120fps camera that includes easy-to-control manual settings convenient to use. The best option when you want to give color to your video is its advanced color settings. Besides, it has a powerful autofocus feature.
The device includes a 4K video recording ability with a 60fps capture setting. These smartphones have a Dolby vision feature and a unique color menu. Besides, video stabilization is fantastic.
One of the flaws smartphone cameras have is a small sensor, but this type has a large sensor perfect for a low-light setting. The video quality is good, with excellent color options and a fantastic stabilization feature.
Sports And Action Cameras
Sports and action cameras are digital video cameras whose primary function is to record things in action. They feature a compact design that eases their use and portability. Not to mention they are waterproof, heat-resistant, and shockproof.
What makes them different from other cameras is that they can shoot videos in different modes, including the time-lapse and burst modes. As the name suggests, it shoots high-definition videos uses various action modes like a slow-motion recording.
For you to record a perfect view, it is often mounted uniquely in the shooter's point of view. Some common areas to mount these cameras include chest, helmet, handlebars in bikes, and helmet.
These cameras' primary area of use is outdoor sports, especially extreme ventures where the adventurer wants to record every detail. They bring sports videography to a new and better level compared to ordinary cameras.  Most sports and action cameras use the fisheye lens with a short focal length but a wide angle.
Uses
The internet features many videos that show extreme sports, for example surfing in a dangerous area, and you probably wonder how the expert took the videos showing every detail of the actions. An action camera is the best option since it is designed to record the details. They come in handy when you are trying to share with people about experiences such as surfing, swimming, fishing, and more. What makes them the best option to record actions is their small size allowing easy mount on people or objects, which plays a crucial role in providing an action's good view. Other than that, their lenses have a wide-angle view.
Shortcomings
The cameras consume power fast compared to other types; hence it is necessary to get another battery pack or buy a power bank and ensure you take it everywhere when shooting a video using the sports and action cameras
Video and picture quality is low since their primary function is to record an action in details
In case you want to edit the videos, it is vital to ensure you use a fully equipped laptop since the videos from sports and action cameras extremely strain your machine
For an effective operation mechanism, you need to invest in other accessories
Price Range
The prices of sports and action cameras differ depending on the brand. Some of the cameras go as low as $150, but their performance is not outstanding. However, if you can stretch this budget by 100%, the results would be different since you can get great action cams such as the GoPro cameras, which are among the best options.
Popular Sports and Action Video Cameras
This camera is the top action cam you can buy. It has a lightweight and compact design hence easy to use. The manufacturers have upgraded the motion stabilization feature to make the videos smooth; thus, its performance is excellent. Its videos are 4K with a battery life ranging between one and three hours. Besides, it is waterproof.
Insta360 is another fantastic action camera to consider buying. It provides natural lighting even when working in an environment with a low-light setting. The compact feature makes it portable and easy to manage. Additionally, its battery life is one hour, and it is waterproof.
Professional-Grade Cameras
All professional videographers hope to invest in professional-grade cameras that result in high-quality videos. As much as skills are the biggest determiner of video quality, a professional camera is an added advantage.
What is a professional-grade camera? It is a high-quality camera that is long-lasting, reliable, and delivers impressive videos. The construction involves metal alloys making these cameras durable. Their build is resistant to minor falls and shocks hence the best option for professionals who work in harsh environments.
Also, they can work under different weather conditions since they are resistant to dust, rain, snow, wind, splash, and many more. The professional-grade cameras have various modes of operation and a fast autofocus feature.
Uses
Professional-grade cameras are the devices that professionals use to take video shoots, filming, documentaries, and make any other video-related content. As their name suggests, they are cameras that professionals use to earn a living. What makes them professional is their build, unique features, reliability, and most importantly, fantastic video quality.
Videographers often work in various environments that may be extreme. Professional cameras will do the trick since they are weather-resistant and can stand medium and minor fails. When taking the videos, videographers need to adjust some features depending on many things; hence these cameras are the best thanks to the exemplary easy-to-adjust settings..
Shortcomings
They feature huge memory capacity; hence people often don't put much thought into the videos to ensure they don't capture unnecessary details; therefore, some videographers deliver long videos with some excessive content.
Professional-grade cameras are more expensive than other cameras since their build, features, and performance are exemplary. As a result, they are not affordable to newbies with a tight budget.
Price Range
Price is an important consideration when buying any camera since everybody has to work with their budget and get what they can afford.
Professional-grade cameras are the best options for people who make videography a source of income. However, their prices vary depending on the brand and features.
Canon and Nikon models are the most expensive since they are the best in professional videography but, they also vary depending on the type.
Note that the more expensive a professional-grade camera is, the more features you will find to improve your work. If you are a newbie and your budget is tight, you can kick off small and upgrade with time.
Popular Professional-grade Video Cameras
Canon is a popular professional-grade camera that is perfect for shoots since they deliver high-quality videos. The construction is durable and reliable; hence it is a camera that professionals can work with for years. Besides, they are weather-resistant, making them a good option when working in rainy, high temperatures, and other extreme conditions.
This professional-grade video camera is a high-quality, long-lasting and, robust device that guarantees the videographers excellent results. Its build is strong hence resistant to minor shocks and fails. Also, it works in various weather conditions.
Which Type Of Video Camera Is Best?
Each of the seven types of video cameras is designed with a particular purpose in mind. Therefore, the best type will differ from one person to another depending on how they intend to use the camera..
What Is The Best Camera For Beginner Filmmakers?
An ideal camera for a beginner filmmaker should offer a great learning avenue. Therefore, a point-and-shoot camera may not be suitable for a beginner. Neither should it be too expensive because of value for money.
Final Words
When selecting among these types of video cameras, never forget that they have different purposes. Their designs favor a particular task and could frustrate another one altogether. Keep in mind their shortcomings and analyze thoroughly whether you can live with them.
After the analysis, consider the popular video cameras of the type of your choice. It should be compatible with your line of work. For instance, if you have to move around with it, make sure that it is lightweight. The bottom line is never to assume what works for your videographer friend will work. Otherwise, you might be in for a rude shock.