Where do videographers look for music for their videos? In this article, we are showing  23 great sources to find music for your videos.
If you are a Videographer, you must often find yourself running short of finding useful resources for laying music to under videos. Music plays a significant role in escalating your audience's emotions and gives your video a unique touch to stand out from others.
So, It is essential to be careful when choosing your background music. Nowadays, with copyright infringement laws getting stricter, it could mark the beginning of unending legal battles if you get it wrong. Some sites will even ban you from posting your videos.
Hence this article is vital for you. Here, we will look at 23 excellent resources ( paid and free) to find music for your videos. So, if you are a videographer wondering where to get music without getting into copyright trouble, keep reading.
1. Epidemic Sound
Imagine what you can do with a library of more than 30,000 tracks as well as 60,000 sound effects? That's what Epidemic sound offers. The fact that it has been in existence since 2009 and has passed the test of time means that it is worth spending your hard-earned money. 
They pay their artists upfront; hence you can rest assured that you will never get into any licensing issues using any of their music. The site also ensures that they periodically update its library.
When it comes to payment, you have two options. You can either choose to license a particular track at a time. On the other hand, you can settle for a subscription. 
If you go for the latter, the cost depends on your audience. If you have monthly visits ranging from 0 to 500,000, the price stands at €13 per month when we write this article for you. You pay €27 per month for up to 5 million monthly visits.
If you want more, for unlimited monthly visits, that is, the cost is €125 per month. Kindly check their website Epidemic sound, for more info.
2. Youtube Audio Library
Youtube Audio Library is set aside for YouTube videos. So, if you are a Youtube content creator, this can be the best place for you to find music for your video. The best part about it is that it is free. You are at liberty to use its music on non-Youtube videos. However, ensure that you take a look at the licensing agreement of that particular song. Always ensure that you comply with their terms and conditions.
When using the library, take advantage of the filter options to search for a song becomes a breeze. The possibilities include licensing agreement, duration, instrument, mood, genre, and many more.
Once you preview a song and conclude that it is the right choice, download it. Then, use a video editor or upload it to your YouTube channel to use it as your video's background music.
3. Premiumbeat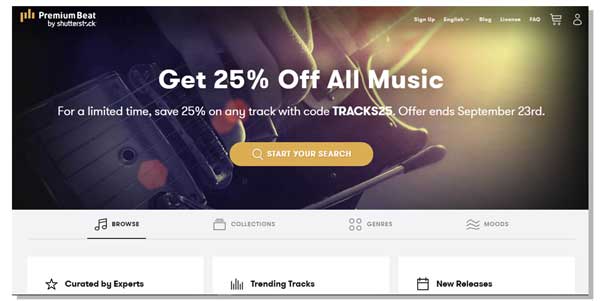 PremiumBeat is associated with Shutterstock, which is known for its remarkable reputation. It offers a rich library of songs that are not only cleared for copyright but also exclusive. At your disposal are both modern and classical tracks, and the quality is top-notch. You will love the ease when navigating around it.
For instance, you can easily filters songs using options such as artist, mood, and genre, among others. You get to choose between standard and premium, which costs $49 and $199, respectively. However, don't expect anything free from them.
4. Artlist
Artlist is an emerging site that videographers should go to since it supports even commercial use. Over the years, the brand has proved its worth, explaining why even formidable brands such as National Geographic, Toyota, Adobe, and Google trust it. It has various categories, among them inspirational, emotional, and a specific one for weddings.
All you need to do is to get a subscription. It will cost you $16.6 per month, but the site bills it annually for a total of $199. Once you pay for it, you are at liberty to download any music amount, which you can use for as long as you want. It is also suitable for Youtube monetization.
5. Soundstripe
Another option to consider if you are looking for a place to get music for videos is Soundstripe. It comes in handy mostly for someone looking for hip, electronic-style music, but they also offer more. 
The music is made in-house by its pool of talented independent artists. The interface is user-friendly and straightforward, where you get to filter music. Some of the criteria are the narrative, mood, and genre of your video.
You get to access its library as much as you want once you pay a subscription. The subscription cost is $15 per month or $135 per year. They update the library weekly. Soundstripe always thrives on adding between 150 and 250 songs every month. The licenses are in all formats, including broadcast, TV, and Youtube.
6. Musicbed
Musicbed has high-quality content that any videographer, production company, or professional filmmaker would look for when searching for background music. It is one of the few sites that offer licenses to indie bands, musicians, and composers.
You can also easily search its library since it has various filter options. The library is quite rich, with over 600 composers and artists. Its interface is also commendable.
The prices are relatively high, but one must admit that the service is worth every penny. If you want to make a home movie, the cheapest you will pay is $49. You will pay not less than $199 for something commercial.
7. AudioJungle
AudioJungle is the place to go to for video music, especially if you are working on a tight budget. Imagine getting to use tracks with as low as $1?
The good thing is that the low price doesn't mean that you will be getting low quality. On the contrary, you get more than a million choices to choose from. The site also ensures that it updates the library every week.
Nevertheless, you shouldn't be expecting any free thing from them. Despite that, you can get a track with as little as $1. Equally important, it also offers monthly subscription plans.
8. ccMixter
Whether it is acapella from vocalists or tracks from musicians, ccMixter got your back. You also have the liberty to either use the music tracks individually or mix them depending on what you need at that particular time or occasion.
Other than the fact that searching for a song could be challenging, everything else is impressive. For instance, you get to use the music for free. Nevertheless, you will have to give credit to the musician while at it.
9. Bensound
Bensound offers you music regardless of whether it is for documentaries, short films, commercials, corporate videos, and animations, among other projects.
The name Bensound comes from the fact that the tracks' artist is none other than Benjamin Tissot. However, it is also important to note that you can also find songs from other artists.
It is easy to navigate hence effortless to find an ideal song. As much as the library is not as rich as that of other sites, you can see free tracks for free. You can also settle for a subscription.
10. Jamendo
Jamendo is also a great free stock music site for any videographer for music to use in a video. In most cases, background music is usually corporate jingles and temp music. Instead of vamping that, Jamendo goes for actual songs to give you great track, especially when making an explainer video.
It offers two major categories, namely licensing and music. If you need free music for your video, settle for the latter because all the songs are under the Creative Commons licensing. As much as the music is free, some may not be available for commercial use. That's why you should consider checking the silence thoroughly. Otherwise, go for a standard licensing of $49.
11. Free Music Archive
Free Music Archive, often referred to as FMA, is home for many videographers looking for free background music. The library is relatively rich thanks to the collaboration of music industry enthusiasts, artists, and radio stations. It has classified the songs according to genres as well as subgenres.
It is easy to search for a song using criteria such as genres, subgenres, type pf license, clip duration, and title, among others. It is a combination of various permits. Therefore, always confirm the type to ensure that you follow the proper guidelines when using the songs.
12. IncompeTech
IncompeTech is a site offering videographers free music. Thanks to Kevin MacLeod, a renowned composer and music producer, IncompeTech came into existence. The library is quite rich, leaving users spoilt with options. You can search them based on feel or genre.
This site offers free music and also allows you to use the tracks for commercial purposes. All you have to do is download it. Then, use it and, at the same time, ensure that you give credit to the composer. If including credit isn't an option, the website also has a way of getting a sans attribution license.
13. Pond5
Pond5 is the place to be whether you are looking for sound effects or stock music. The site has a reputable rich library of songs. The price is quite pocket-friendly and, to some extent, depends on the price that the artist set. It is negotiable since you can communicate with the musician directly.
It is ideal for all projects, including commercial: corporate shoot and short promo. The quality is always high. Filter options include price, views, artists, date uploaded, and duration, among others. The average cost of a track is $35.
14. CCTRAX
CCTRAX also has a rich library of tracks. Most of them are usually under the Creative Commons license. Therefore, you get to use them for free as long as you give credit to its artist. Whether it is individual songs or even albums, this destination will not disappoint. It also has a wide range of genres, including rock, electronic, modern classical, techno, and dub.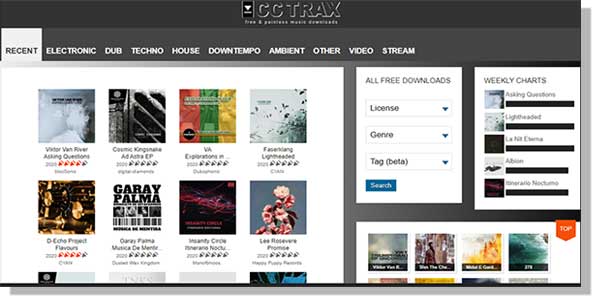 It offers searchers filter options as well. The criteria include the name of artists, labels, tags, genre, and license type. The fact that it also offers music videos is a plus. As much as most of the music is free, be on the lookout for the cc licensed one. Luckily, you can quickly know the type of license at a glance.
15. Musopen
Musopen is a site that you can turn to when looking for free classical music, but that doesn't mean that you can't find other genres. The music, as well as the recordings that it offers is free with no copyright restrictions. In most cases, the music is in the public domain after rights have expired or aren't applicable.
However, the site recommends that one also assess the available songs in their public domain library before any distribution, use, or performance of the same.
However, if you go for the free version, you can rest assured that there are several downloads that you can't exceed. For paid membership, you get to download more while getting tracks with higher quality.
16. Music Vine
Music Vine is one of the newest sites that offers videographers background music, but that doesn't mean that it will disappoint. The library is quite substantial. It has up to 5,000 tracks. Don't expect bespoke music, though. The library may not be much, but you will get something out of it. 
Depending on the music's purpose, or how often you need tracks, you can choose between single-track licensing or a subscription. The latter can go for as low as $14 every month.
17. Freestock Music
Freestock music is an excellent destination for a commercial video and a home movie depending on the occasion demands. It also offers a wide range of formats such as AIFF, WAV, and MP3. Signing up is free. 
Nevertheless, it might be hard to search for an appropriate track due to the lack of filter options. You will also have to stomach ads when using this free service, which is understandable.
18. Freesound
Freesound is a place to go to, for not only music but also the likes of natural sounds, people talking, noise, and sound effects, just but to mention a few. It has a rich library.
In addition to that, its interface is both intuitive and modern to make it easy when finding the best track. For those who already know what they are looking for, the search bar will come in handy.
It is also ideal for music editors to look for instrument samples to integrate them into a new track. To ensure that you don't face copyright issues, always check the license type of the song that you choose. Once you do that, you will be in a position to use them accordingly. Some are free. Others need a license, whereas others are only for non-commercial use and so on. Follow the guidelines to stay away from trouble.
19. Freeplay Music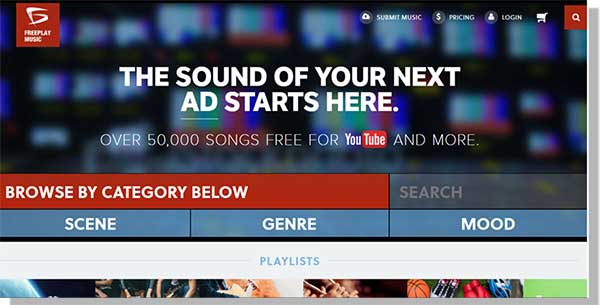 Freeplay Music is one of the few places that a videographer can find a track ideal for commercial use with as low as $0.99. For personal use, the price is nil. That's thanks to the availability of licensed as well as free music.
The library has up to 7,000 tracks. Most of the songs are classical from some of the best composers.
If you are an amateur who needs less than or equal to five songs, there is a license of $500. If you want more than five tracks, settle for the $700.
20. Foximusic
Foximusic will get the job done, given the fact that it has a considerable amount of tracks. Although it is still not rich, the library is understandable since it has only been in existence since 2016. It has various categories to help you settle for an ideal track.
The cost of the license is on the number of tracks. If you settle for a standard license, each track will cost you $39, and you can only use it for online projects. On the other hand, the price of a premium license is $129 for every track.
In the second case, you can use the music for online projects or broadcast. Regardless of the plan you choose, you can use the track on as many projects as possible once you pay for it once.
21. Audionautix
Audionautix is yet another free site to find music for your video if you are a videographer or intend to make music video. It is the right way of ensuring that you don't find yourself dealing with copyright infringement consequences.
Everyone who has or will benefit from the same has Jason Shaw to thank. The artist puts his music at the disposal of anyone who would like to create a project.
There are also tracks from guest composers. You get to filter music based on keywords, tempo, mood, or genre, among others. The best part about it is that the service is free of charge. The only thing that you need to do is to give credit to the composer.
22. Soundcloud
Soundcloud is a free site where videographers get music. It is a collection of background music suitable for various videos. As far as the library is concerned, most of the tracks are licensed under the Creative Commons. Therefore, you can use the music for free. The only requirement is to follow the rules and regulations set by the artist.
Searching for a song might be a daunting task. However, you will eventually find the right choice, which is a price any videographer is willing to pay for free background music for a video.
23. Beatsuite
Beatsuite has been in existence since 2003, and the extensive library of music makes it an excellent place for videographers to get music. You get to quickly find a great track thanks to the keyboard playback shortcuts as well as the user-friendly interface.
As a videographer, you have various filter options. Consequently, it becomes easy to narrow the choices and settle for a great choice, eventually. In addition to the excellent user experience, you also have an easy time getting the license, and the quality is always incredible. All that content comes at a pocket-friendly price of $59.99 only.
Final Words
The next time you want to get music, you now have an idea of the sites to visit. Some are free, and all you have to is give credit to the composers, and you are good to go. Others are paid services either per track or by subscriptions. 
All you have to think about is your budget, the number of tracks you need, genre, and ease of use. Once you consider all that, you will settle for a great choice, eventually.