If you are a first-time screenwriter dabbling with the idea of submitting your script to a producer, or you have written something that you are prepared to send out into the world but can't seem to find where it goes, these are some great tips for help from people who've already succeeded.
If you're looking for guidance in screenwriting and want to know the right approach to reaching your scripts in the right hands rather than shooting in the dark, read on to find where and the best way to submit your writing material.
Where can you Submit your Movie Script?
Screenwriting demands are rising, whether it's for T.V., movies, short films, web series, etc. But for a new writer to be able to connect and interact with Hollywood or your film industry starts with the simple route of submitting your script to various firms.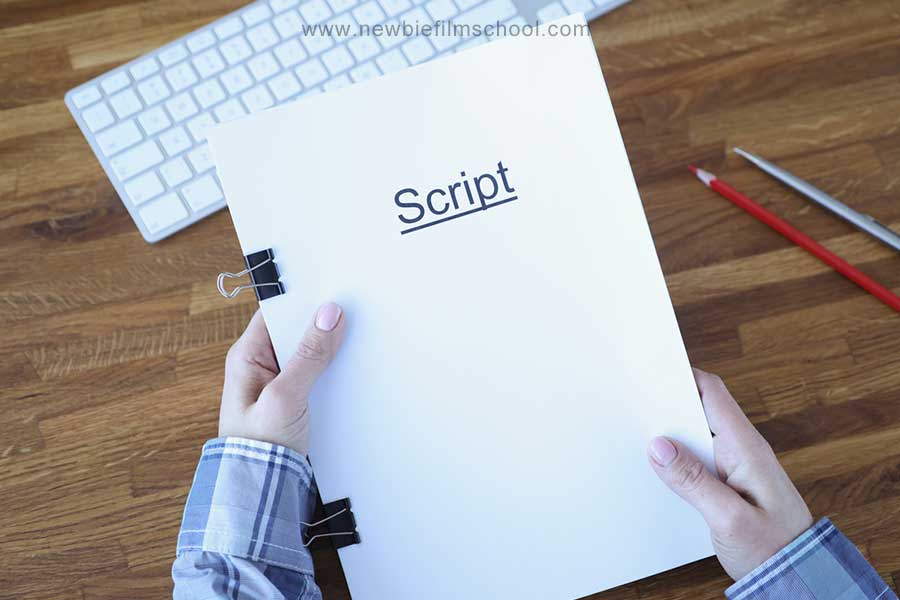 The different needs of each company and their submission platforms leave room for interpretation. However, the following lists will serve as a guide on how to submit your work in the best way possible.
Movie Studios: 
No reputed Hollywood Studio/ Producers or filmmakers entertain unsolicited scripts. So to get in touch with them, you will need an agent or attorney. 
The best way is to connect with admirals .i.e the assistants of the studio producers, directors or high-ranked executives. You can also network with the reputed agent's assistants. It is strongly advisable to have at least 4 spec scripts in your kitty before you approach them.
How to Submit : 
You have to catch hold of the signatory agencies or agents of the Writers Guild of America ( WGA). The game here is to impress the agent or for that matter a studio executive who can help 
Ensure you have all requested materials delivered as per their submissions policies which you can access from their website or some studio executive. 
The submit release form is a document that makes the writer promise that he will not sue them if they steal their idea. It would be a red alert to most people, but in reality, it's not.
They probably won't steal your idea because everyone has similar concepts for scripts and treatments these days. But considering this, you should submit your idea to cover yourself in the long run if someone does decide to use it for their work.
Agents/ Agencies and Entertainment Attorney:
Agents and entertainment attorneys typically represent big-name actors and directors, but they also select and represent talented screenwriters. As a result, they are constantly on the lookout for promising scripts to pitch to their clients so that they can collaborate with them.
How to Submit:
Most agents and entertainment attorneys are very busy and don't have the time to read and evaluate every submitted script. But you need them to submit unsolicited scripts.
So as a courtesy, you should first send them your script idea, logline, and a cover letter requesting an evaluation. It means a well-written first act, an engaging written script that is free of grammatical errors and spelling mistakes, and a note from one of the previous clients that can vouch for you.
Click here is the list of agents   –
Also, check out Backstage for agents
A well-written cover letter will convey your intent and enthusiasm for working with them. 
You can also send them your script over LinkedIn or Facebook (if they are social media enthusiasts). However, if you prefer sending it via postal mail, they may require you to send it through snail mail or drop it off at their office.
Standalone/ Independent Producers & Filmmakers:
Vital for a screenwriter to know the right way to submit your work to those who can help fund and produce your script. Reputed Movie / T.V. producers and filmmakers are open to submissions, as long as you follow some ground rules. It is an avenue that new screenwriters should start as chances may be that they give you their story to write. It is an excellent opening as it gives great exposure.
How to Submit : 
You can use the 'Submit Release Form' you have seen in the studio submission section above to send them your work. It has all the requested information for them, and they will receive it within 10-17 days.
As a common courtesy to the independent producers or standalone filmmakers who are a bit easier than approaching a studio, they are always on the lookout for scripts.
The best way to reach and submit your work is through a private message on their social media accounts. You can post it in their comments section on Twitter or Facebook, or you can email them at the addresses provided on their website.
Or directly meet them while attending the film fests or movie conferences. Just make a presence and show them that you are interested in working with them.
Also, IMDB Pro is a professional database with hundreds of thousands of writers, producers, directors, and other film industry professionals. You should enroll to the pro version to find contacts of the filmmakers.
Also, check out Stage 32 and InkTip
Screenwriting Labs / Writer Groups/ Fellowship programs/ Professional Organizations:
These are groups comprising writers and filmmakers who help each other out by reading and reviewing scripts.
It's an excellent opportunity to get feedback on your work from fellow writers and filmmakers. And then, they can help you further by guiding you to develop your projects, either as standalone or through the studio system.
How to Submit : 
There are endless screenwriting fellowship programs and screenwriting labs like – 
Also, check out the programs of Sundance, CBS, HBO, Tribeca etc.
For joining writer groups, check out – Scriptwritersnetwork.
Sign up for the similar screenwriting labs / writer groups / rooms and wait for them to post a Call For Submissions or have an open enrollment period.
Film Fests, Screenplay Contests, and Pitch Fests:
You can submit screenplays to film fests or screenwriting contests to get noticed, among others. It is another avenue for new writers to present their work and grab the attention of producers/filmmakers. 
How to Submit : 
Check here for the upcoming screenplay contests → Moviebytes
Virtual pitch fest ( https://www.virtualpitchfest.com/) is an excellent platform to pitch your script
Accomplished Writers/ Script Consultants/ Supervisors and Doctors:
Famous writers are always open to reading scripts. It is also an excellent way to gather feedback on your work. In addition, these experienced writers can help you with writing industry-related knowledge and experience that you may not be aware of.
They can also exchange contacts with other established or upcoming script professionals for helping in networking.
Script consultants or supervisors are also available to help the writer with story-building and script editing. Though not cheap, if you can afford it, this is a good way to get a favorable opinion on your material and better your work. In addition, networking with them can make your journey smoother to greenlighting your script.
How to Submit : 
As mentioned before, networking is an essential tool in reaching out to top screenwriters and getting their attention. Also, they are often open to reading scripts that are well-presented. So don't hesitate in sending them a polite request for consideration of your work.
OTT / Youtube Creators / New Digital Filmmakers :
OTT and digital streaming services like Netflix and Amazon Prime have opened the gates for new writers to get their work seen by a huge audience. It does not matter if you have worked in the industry or not – if your work is good, these platforms will be a great place for you to show it off and get discovered.
These days, Youtube channels are thriving, and they are always looking for new writers to create their content. And in return, they pay them well for their hard work.
How to Submit:
The best way to submit your work is through an open call for submissions on their official websites or social media accounts. First, make sure you follow the guidelines provided in their submission guidelines. Then, you can share it on your social media channels as well.
You may also reach out to them personally through an email or a direct message and send them your script idea, logline, and a cover letter requesting an evaluation.
Social Media Writer forums / Online Community:
Joining the writing forums is an excellent opportunity to interact with other writers. It helps you share your work and develop it in an open, collaborative environment.
Writing communities or online communities provide the opportunity for writers to exchange their work and ideas. These communities are free, making it easy to get in touch with established screenwriters and filmmakers. It is a good way to listen to what they have to say about your work and their experience in the industry.
When to Submit your Screenplay?
Before you submit the script to anyone, first register it with the Writers Guild of America. It is essential to register the script with the organization to receive some of their perks. For example, you can apply for the Screenplay competitions; they will have it on their website for the public to view and read.
After your script has been registered with them, it is time to decide when you should send it out on submission.
Should You Submit An Unsolicited Script?
When you are just starting out writing a screenplay, you may have no connections in the industry and no one to vouch for you. Therefore, you will need to find an intermediary to get in touch with a producer or director that might read your script.
But by sending an unsolicited screenplay, you risk getting rejected outright because producers and studios want to bring in their own talent – not yours.
Script Submission Checklist:
The bitter truth is that makers are swamped with movie ideas and screenplays all the time. 
Yet, they are looking for that next big script but not at just anyone. Their eyes are pinned to the established writers, recommendations from the industry bigwigs, maybe a contest winner, and even their near and dear ones. You are definitely not there in any of them.
To really get a reputation to get your scripts read, you have to be recommended by someone the producer respects. Join film festivals and writers groups to make connections and find your way in.
But why will someone spend two to three hours of their busy schedule to read your script? So most of the time, don't be offended if someone doesn't read it. However, it is always wise to have a checklist before submitting your script where the producer can save time and yet get the flavor of your writing.
The logline
Movie theme and genre
Synopsis and treatment
Final draft
Treat it as a project blueprint – budget/cast/location breakdown
Learn to format your script
Your contact with WGA registration no.
Your C.V.
Covering letter/ pitch note
Best Tips To Submit A Script In Your Favor:
It is a never-ending task to make it through the deluge of submissions that come in. One easy way to decrease your odds of being rejected is by submitting your work right into the right hands. How do you know who those people are, though? Here are some tips for doing just that.
– Reach only the Producers of your Genre
– Wait with patience
– Practice narration
– Connect with the studio executives, assistant directors, and budding filmmakers.
– Don't spam by blind mailing 
– attend screenplay workshops and conferences for networking
– Share the script with your peers 
– Get your NDA (nondisclosure agreement) made by a lawyer, or just copy a template
– keep an open mind as most of them are going to reject it
–  Create story Audio files/storyboards or a video presentation
–  Also, keep at least three more scripts ready to pitch if the producer is looking for something else.
– Network with movie critics, reporters, or movie influencers.
The Bonus Tip:
Use your spec script as your writing sample and get work on paid projects. Start by writing commissioned scripts and looking for freelance opportunities. Don't be discouraged if you don't sell your original screenplays, but you can plug some of your scenes into the commissioned work. 
Final Words:
Screenplay submissions, in general, are the backbone of a screenwriting career online. A spec script can be a good starting point to get your name out there. Then, get paid for doing something that you enjoy and would do anyway.
Yes! Many writers have been working on their screenplays since long back and never got to submit them simply because they were afraid of rejection. But don't let this discourage you from submitting your work. Many avenues will help you get your scripts to read.